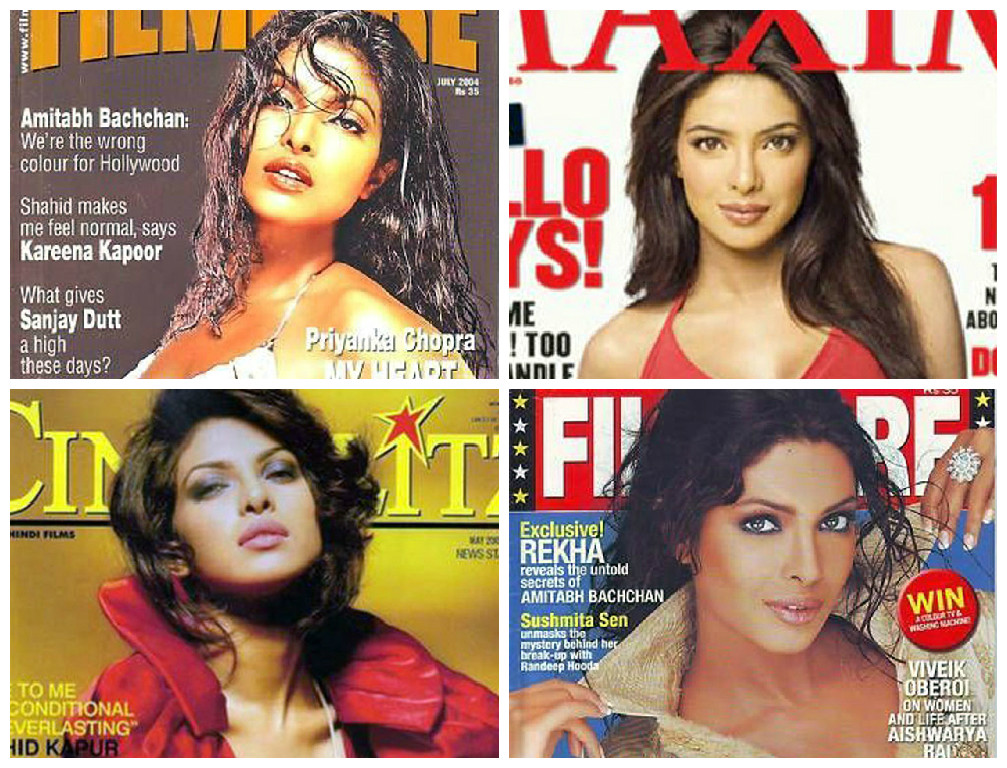 ---
We were all under the impression that Bollywood bombshell Priyanka Chopra could flaunt her magic on any magazine cover on which she graced her presence. 

However, like any celebrity, Priyanka has had her fair share of cringe worthy covers all of which have featured excessive bronzing to catty eyes.

1. Filmfare, 2004




This magazine cover looks wrong from every angle. With excessive use of lighting techniques and Chopra's hair in her eyes, we'd expect better from her.

2. Maxim, 2006




From then to now, Priyianka has made a huge transformation. We wonder how she feels about this cover now.

3. Cine Blitz, 2006 




This magazine cover is confusing to say the least.

4. Filmfare, 2006




This cover spells another hair disaster for Chopra.

5. Cine Blitz, 2007




We aren't sure who styled PeeCee for this shoot and we really don't know what she had in mind when she wore this for Cine Blitz's cover.

6. Cine Blitz, 2009




No words for this picture. Priyanka looks as though she just woke up and those smokey eyes are doing her no good.

7. Masala Magazine, 2010




Priyanka reveals her fears, failures , friends and foes and those coloured contact lenses.

8. Filmfare, 2012




Almost there PeeCee! With many failed front covers, she begins to emerge as the true beauty that she is.

The Priyanka Chopra we all know and love:


This article originally appeared on India Today
COMMENTS
Comments are moderated and generally will be posted if they are on-topic and not abusive.
For more information, please see our Comments FAQ