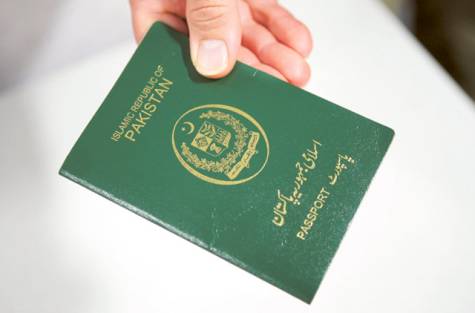 ---
LAHORE:



Pakistan continues to rank eleventh among nations acquiring high-tech US visas as workers in the country's rapidly growing information technology field face steep global competition.




According to figures released last month by the US Customs and Immigration Service, in 2014 US companies filed 318,824 petitions on behalf of foreign-born potential employees. Of the 315,857 approved, less than 1 percent, or 1,923 visas, went to Pakistanis.

Muhammad Adil, a software engineer from Lahore, is seeking a US company to sponsor his high-tech visa. A COMSATS graduate, he has freelanced for companies in the US, Belgium and Canada.




"The whole world is applying," he said. "It's pretty hard to find a sponsor by yourself. It's a 1 per cent chance [of succeeding]."

The H-1b Specialty Occupation Workers programme grants high-tech visas to 65,000 skilled foreign nationals each year, not including renewals and exemptions for workers with master's degrees or other qualifications. Successful applicants, who are required to hold bachelor's degrees and have significant experience in specialised fields, work for American companies and can apply for visa renewal after three years.

Even if Adil receives a visa, there's no guarantee that he won't face further challenges.

Syed Humayun, a software engineer from Karachi with nearly 15 years of experience in the industry, was one of 851 Pakistanis awarded high-tech visas in 2012. He said he wanted to work in the US as much for professional development as for higher wages.




Because the H-1b process requires applications to be filed by a sponsoring US company, it's common for foreign applicants to be employed already by its international conglomerate. But as Humayun learned, the number of US companies that use Pakistan as a source for H-1b workers is limited.

When he began researching the process, "I could count them on my fingertips – four, five, six companies," he said.

Eventually, Humayun landed a job at the Lahore office of a New Jersey-based software company that was looking for qualified engineers. In May 2012, he began working in the New Jersey office, where he spent five months.

However, his experience was cut short. After visiting Pakistan that October for Eid, he was told at customs at Kennedy airport that his visa had been revoked and he couldn't re-enter the US without further documentation from his employer. To this day, Humayun says he has few details about the circumstances that led to the visa revocation.

Saadia Siddique, a Chicago-based immigration attorney, said it's not uncommon for visa holders to be out of the loop on their legal status.

"Normally the corporations will have in-house counsel who will file the paperwork," she said. "[Employees] don't necessarily have access to that paperwork."




Humayun now works for a software company in Dubai and writes a blog about the H-1b process as a resource for his peers.

"It was very disappointing," he said. "I even wrote to the head of the Karachi [US] consulate about my disappointment, my anger. Why [did] it have to happen like that?"

When asked about the revocation of Humayun's visa, Marilu Cabrera, a public affairs officer for the US Customs, said her office was not allowed to share information on individual cases.

Why is Pakistan lagging?

Although his success with the H-1b program was short-lived, Humayun may have fared better than many of his peers. The US government doesn't track visa applications by home country, but records show that from 2013 to 2014, roughly 4,000 Pakistanis were either awarded high-tech visas or had their existing visas renewed.

That number compares with India's 407,000 H-1b holders. Indian and Chinese visa holders dominate the H-1b pool with nearly 80 percent of visas. Pakistan has ranked eleventh since at least 2011.




Humayun and Adil see other factors contributing to Pakistani high-tech workers' struggle in the H-1b contest, including Pakistan's role in combatting terrorism and perceptions resulting from its security situation.

A similar view is shared by Lahore-based immigration consultant Mumtaz Tarar, who since 1995 has helped Pakistanis who seek work-based visas.

"This hype has been created [about] Pakistanis, which is unfortunately a very negative aspect," he said. "The concept about Pakistan has been unfortunately misinterpreted in America."

Tarar believes those misinterpretations hamper H-1b chances for Pakistani high-tech workers.

"We are producing tons and tons of IT professionals who are not being used, not being capitalised," he said.

Giovanni Peri, an economist at the University of California, Davis, who studies the H-1b process, believes that India's dominance in the IT field may be significant. He says the relationship between the US and Indian economies is key to the latter's success in the H-1b programme.

"Migration goes with networks, meaning that immigrants know about opportunities through other immigrants," he said. "So when one group starts to specialize in one type of job, then the information travels very fast."




India was one of the first developing countries to begin turning out IT graduates, establishing many technical universities in the 1980s and 1990s.  Siddique attributes this to India's H-1b success.

The number of universities in India versus in Pakistan is "completely disproportionate to the populations," she said. "A lot of universities in India have more access to hooking their students up to the US, like a networking situation."

Striking a balance?

But, despite Pakistan's global ranking in the H-1b pool, growth in its local IT sector and booming freelance market may signal new opportunities for the country's large supply of emerging computer science professionals.

"We have started to put together an ecosystem for supporting IT startups that did not exist three years ago, now seen as very up and coming all over the world," said Dr. Umar Saif, chairman of the Punjab Information Technology Board and vice chancellor of Lahore's Information Technology University.

Dr. Saif says startups in Pakistan are now focusing on "local solutions to local problems," such as an Uber-like ride-sharing service for rickshaws. He said he believes there is a pent-up demand for the IT industry within the country.

All these factors, he believes, indicate increasing opportunities for local IT workers, with 95 percent of recent ITU graduate students employed full time when they enrolled. In addition to Lahore-based incubator and accelerator programs that allow workers to develop startup companies, Pakistani software engineers rank third behind the US and India in the international freelance market in terms of production.

With a few good ideas and greater interest from foreign investors, Dr Saif says, Pakistan can be competitive globally, which would be impressive considering the country's IT industry blossomed only a little over a decade ago.

"You just need one or two home runs, and then you're good to go," he said.

Dr Saif also said he didn't think eleventh is a particularly bad ranking in the H-1b contest, given Pakistan's security situation and the nascent nature of the local industry. In his view, the changing landscape of the global IT industry now allows young professionals to flourish without going abroad.

"What you have now is a very flat world where [with] a good idea, you can build something distinct, put it out there and people start using it," he said.

"From a mid-tier engineer's point of view, you could do just as well in Pakistan. No one really cares in this world anymore where you're from as long as you develop and deliver on your projects."

(Joint reporting project between the express tribune and the international centre for journalists, ICFJ)

Published in The Express Tribune, April 7th, 2015.
COMMENTS (33)
Comments are moderated and generally will be posted if they are on-topic and not abusive.
For more information, please see our Comments FAQ