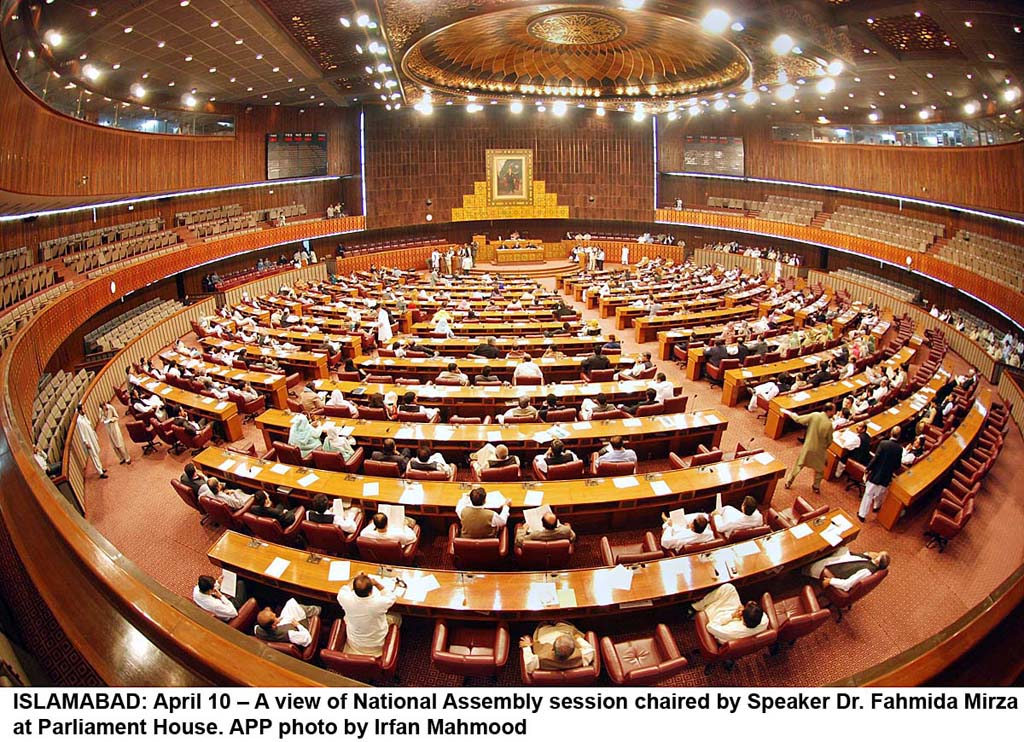 ---
ISLAMABAD: A joint sitting of the two houses of Parliament considered on Monday whether Pakistan should join the Saudi-led military campaign in Yemen to quell the Houthis rebellion against President Abd Rabbuh Mansur Hadi. 

On March 26, the Saudis launched an air campaign in Yemen leading to a sharp escalation in the country's violence.

The federal government had since then made efforts to evacuate hundreds of stranded nationals from the war-torn Yemen on the orders of Prime Minister Nawaz Sharif.




8:45pm: Session to continue tomorrow at 11am

NA speaker Sardar Ayaz Sadiq adjourns the joint session till Tuesday, 11am.




8:00pm: PTI's return to Parliament is illegal: former CJP

Former chief justice Iftikhar Muhammad Chaudhry has termed PTI's return to Parliament, after a gap of more than seven months, illegal under the Constitution.

Read the full story here.




7:40pm: Shah Mehmood Qureshi addresses Parliament

While addressing Parliament, PTI leader Shah Mehmood Qureshi expresses his amazement at the fact that instead of Yemen, the PTI's participation was being focused on.

"There have been conflicting claims –- on one side, Saudi media is claiming that Pakistan has already committed support to the Kingdom. However, in his speech, the defence minister said Parliament would be taken into confidence before any decision," he says.

"Are we going to become a party in this crisis?" he questions.

Further, claiming there was no clarity in Asif's speech, Qureshi demands the government apprise Parliament on Saudi Arabia's expectations from Pakistan.

"There's no doubt Saudi Arabia is our time tested friend but can we fulfill their expectations?" he asks.

"Our armed forces are already engaged in a war in the northern areas, as well as on eastern borders and in Balochistan," he adds.

"Until the whole situation is made clear, we can not take any decision," he asserts.




7:35pm: JUI-F stages walk out

Jamiat Ulema-e-Islam – Fazl (JUI-F) walks out in protest against PTI leader Shah Mehmood Qureshi being allowed to speak during the joint session.




7:30pm: JUI-F supports PPP's demand, says govt should clarify stance

JUI-F chief Maulana Fazlur Rahman lambasts PTI for participating in the session.

"They [PTI] should be asked whether they resigned or not, because after sending their resignation to the speaker it cannot be taken back," he says.

"People who have sent their resignations and reached the office of speaker have no right to sit Parliament," he adds.

"Strangers are sitting in the assembly today," he says, referring to the PTI.

"I'm happy that there is a consensus on war being avoided."

"If we will not put out the fire that has engulfed the Middle East, then it will spread all over the world," he adds.

Supporting the PPP senator's demand, the JUI-F chief says, "Parliament should be taken into confidence regarding the government's stance on Yemen."




7:20pm: PM would put country in danger for his personal relations and business interests, says Imran

Responding to parliamentarians' verbal confrontation over PTI's participation at the joint session, Imran Khan says, "The language used by the minister sitting right next to PM was undemocratic."

"Was he speaking with the prime minister's permission?" he questions, referring to Khawaja Asif.

Further, Imran defended his party, saying they were asked to return to Parliament. "Zardari invited us back," he adds.

Speaking outside Parliament during a prayer break, Imran says, "After 126 days, we forced the government to establish a judicial commission. What are they trying to do?"

Supporting PPP senator Aitzaz Ahsan's demand for the government to clarify their stance on Yemen, Imran says, 'We demand Nawaz tells us the true situation."

"PM Nawaz should tell us what agreements he had signed. Musharraf lied to us and lead to this destruction," he adds.

"Saudis are our brothers while Iran is our neighbor and we should try to put out the fire."

Criticising Prime Minister Nawaz Sharif once again, Imran says, "I'm afraid Nawaz would put the country in danger for the sake of his personal relations and business interest."

The PTI chairman further says he will visit Karachi soon.




PHOTO:  INP


6:15pm: Govt should disclose clear stance on Yemen, says PPP senator

Dismissing Defence Minister Khawaja Asif's speech on Yemen crisis as not being "concrete," Ahsan questions, "What would be considered a violation of Saudi Arabia's territorial integrity?"

"We all want peace in Saudi Arabia and we don't want Pakistan's relations with the country to deteriorate but we want to be apprised regarding government's stance on Yemen," he adds.

"We want to be told clearly what the government is considering and has been asked to provide."

"The House should be taken into confidence regarding Pakistan's stance on the Yemen conflict," he adds.

Further, he asks the defence minister to state the terms and conditions of Saudi demands. "Under whose command will Pakistan Army troops be sent and who will bear their expenses?"

PPP senator suggests Prime Minister Nawaz Sharif should call on all foreign ambassadors of Muslim countries and OIC representatives to discuss a peaceful resolution for Yemen.








6:08pm: MQM walks out of Parliament

MQM MNAs walk out of the joint session in protest against what they called PTI's "unconstitutional" presence at Parliament.




6:05pm: Khawaja Asif lashes out at PTI for attending session

Lashing out at PTI MNAs over their attendance today, Defence Minister Khawaja Asif says, "There is something known as ethics and morals."

"PTI members are still saying this Parliament came into power through rigging," he adds.

Asif says PTI has no right to sit in Parliament after they lambasted the Parliament and government from top of their container for months.

However, PPP senator Aitzaz Ahsan defends PTI's stance and says, "The government, itself, invited PTI to Parliament."




6:00pm: Ruckus as MQM threatens to walk out

MQM leader Farooq Sattar threatens to walk out of the session over PTI's presence.

"Why are those who do not believe in the Constitution present here today," Sattar questions.

However, trying to calm down the situation,  NA Speaker Ayaz Sadiq, says, "You cannot walk out until you have heard me out."




5:46pm: PM in attendance as joint session resumes

The joint session of Parliament resumes as Prime Minister Nawaz Sharif attends the session. Earlier, the session was adjourned owing to the premier's absence.




3:10pm: Opposition parties agree Pakistan should not join Saudi-led offensive

Opposition parties have agreed Pakistan should not become a part of the ongoing Saudi-led offensive against Houthi rebels in Yemen, Express News reported.

The decision came during a consultative meeting between Pakistan Peoples Party, Muttahida Qaumi Movement, Awami National Party and Pakistan Muslim League-Quaid during an adjournment in the joint session of Parliament.

The opposition parties considered Defence Minister Khawaja Asif's statement that Saudi Arabia has demanded warships, warplanes and soldiers from Pakistan and concluded Pakistan should protect Saudi sovereignty but not join the war.




2:40pm: PTI's participation in Parliament unconstitutional, says MQM

Muttahida Qaumi Movement (MQM) leader Farooq Sattar termed PTI's participation in today's session against the Constitution.

"Those who are trying to uphold democratic values are playing with the Constitution and are trying to manipulate the Constitution," the MQM leader said, while speaking to the media.

Read here for more.




12:39pm: Session adjourned till 5pm

Ruckus erupts as Asif ends his speech.

The speaker has now adjourned the joint session till 5pm today.




12:18pm: Saudi asked for warplanes, warships and soldiers, says Asif

At the start of the joint session, Defence Minister Khawaja Asif says Saudi Arabia has asked Pakistan for military aircraft, warships and soldiers.

"Saudi Arabia has asked for combat planes, warships and soldiers," Asif, who also visited Turkey to discuss Yemen, says, without specifying where Saudi wanted them deployed.

Asif reads his written statement, introducing a motion on Yemen war and whether to join Saudi forces bombing the war-hit country.

"PM Nawaz believes the subject merits indepth discussion to help the government make the right decision on the crucial issue," he reads, listing efforts made so far to evacuate stranded Pakistanis in Yemen.

Thanking Saudi government for giving safe passage to Pakistani rescuers, Asif said the Kingdom played an important role in ensuring safe return of stranded nationals back to Pakistan.




As Asif continues to read the motion, he provides background on the turmoil in Yemen to his fellow lawmakers.

"Pakistan attaches great importance to Saudi Arabia's territorial integrity," he reiterates his government's stance.

"We will stand with our Saudi brothers," he emphasises, narrating details of meeting between Pakistani delegation and Saudi officials in Riyadh recently. "It is important to ensure unity among Muslim countries; PM Nawaz is working to make a peaceful solution to this crisis possible," Asif says, referring to the premier's visit to Turkey.

The defence minister says the premier and other senior leaders will continue meeting other Muslim leaders for a quick and lasting solution to the Yemen problem.

"Pakistan and Turkey are both concerned about the overthrow of a legitimate government in Yemen and resulting problems in the region," he added.

The federal minister says leaders of Pakistan and Turkey have same stance on the Yemen issue - standing by Saudi Arabia.

"There is a need to find a peaceful situation to maintain unity among Muslim countries; all decisions taken by the government will reflect the aspirations of the people of Pakistan," he says, as he stresses the importance of today's debate and how it will help formulate government's policy on the issue.

Praising PM Nawaz for his past decisions 'in favour of Pakistan', Asif says the premier will never do anything that will not benefit the country. He extended his tribute to Pakistan Army and praised the soldiers for fighting a crucial war against militancy with limited resources.




12:15pm: Finance minister assists defence minister

Finance Minister Ishaq Dar, assisting his fellow minister, says the motion should be moved and debate should start today as the discussion will take days.

"We all should hear the facts on Yemen crisis at least; PM Nawaz will of course attend the session as soon as he is done with his meeting with Sri Lankan president," he says.




12:13pm: Khursheed Shah suggests session should be delayed

The opposition leader suggests the session to be delayed till 3:30 or 4pm.

"Speaking on the behalf of the opposition, I think the session should be delayed," Shah says, with PTI chief Imran Khan stating the session can be called tomorrow.




12:11pm: PM will attend as soon as he is can, says Asif

Defence Minister, who will move the motion to discuss the Yemen crisis, says the visit of Sri Lankan president was scheduled earlier.

"The discussion will start now and PM will hopefully attend as soon as he is can," the state minister says.




12:05pm: Wish to see PM in House, says Khursheed Shah

Stressing on the importance of the joint session, Shah says he wishes to see PM Nawaz in the House.

"PM briefing the Parliament will give a strong message to the nation," he says.

The premier is currently meeting Sri Lankan president who is visiting Pakistan on a three-day visit.

Shah says the session can be delayed for half an hour to make sure PM Nawaz is able to attend the debate on Yemen crisis.

"The decision is your's Mr Speaker but PM Nawaz's presence will make things better," Shah says.




12:03pm

As Shah ends his opening remarks, Sadiq responds, saying he only followed rules.




11:57am: Khursheed Shah addresses Parliament

Leader of the Opposition Khursheed Shah begins speaking at the session. "PTI members attending the session is a win for democracy," he says.

The opposition leaders commend members of the opposition benches for their role in bringing PTI and PML-N to negotiation table successfully.

Extending his praises to the speaker, Shah said Ayaz Sadiq's patience in the face of the political crisis was praise-worthy.

He requests all the lawmakers to ensure the House is run as per the law.




11:49am: Analysis

PM Nawaz had said repeatedly he will defend any threat to Saudi Arabia's "territorial integrity" without defining what action such a threat might provoke.

"They're looking to satisfy Saudi expectations at a minimal level," said Arif Rafiq, a Washington-based adjunct scholar with the Middle East Institute. "They're unlikely to be part of any meaningful action inside Yemen. Maybe they will reinforce the (Saudi) border."

Read the full analysis piece here.




11:40am: PTI lawmakers attend session after ending boycott

As PTI lawmakers attend the session after months long boycott, PTI Vice Chairman Shah Mehmood Qureshi and PTI Information Secretary Shireen Mazari visit the office of Speaker National Assembly Sardar Ayaz Sadiq, asking him to grant them permission to attend the joint sitting.




11:00am: PTI chairman in attendance

Pakistan Tehreek-e-Insaf chief Imran Khan has arrived at the National Assembly to attend the session.

He, along with his party lawmakers, is taking part in the parliament debate after a seven-month long boycott.