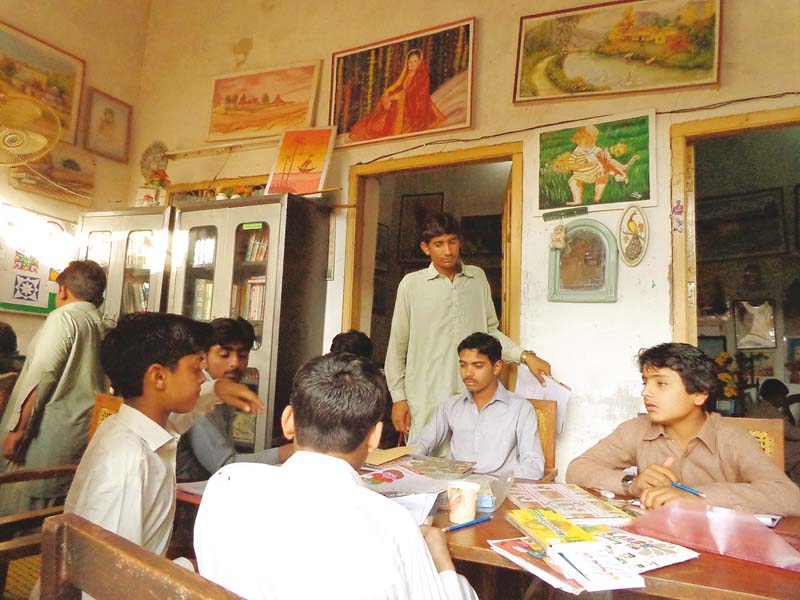 ---
Ghulam Qadir Lashari is often called 'crazy' or 'mad' by locals in his home district of Dadu,  Sindh. The artist and teacher accepts these labels with pride, saying such names only reaffirm his 'commitment to colour'. "People call me and my friends crazy for spending our meager income and so much time on our artwork," he explains. Lashari and his four colleagues are the founders of Romesa Gallery, an art gallery tucked away in a small rented building in Dadu since 2007.


"The gallery is named in honour of a Sindhi queen of Tando Bago, a town in Sindh," Lashari explains. "I wanted to express my love for the soil of Sindh, especially Dadu, by documenting important personalities and our cultural heritage through my paintings." The entrance to the gallery features two walls covered with paintings, including portraits of renowned late poet Ustad Bukhari and scholar and founding father of the University of Sindh, Jamshoro, Allama II Qazi. The gallery includes a small verandah, which doubles as Lashari's office and a meeting space for his friends, and a library of books that visitors or students can peruse. Two rooms form the main gallery.

The gallery welcomes many young visitors who have gone on to become drawing teachers or painters. Music-lovers also have a home here — Lashari's colleague provides 10 children with musical training here; another colleague uses the gallery as a makeshift classroom for 12 underprivileged children.





Ghulam Qadir Lashari, founder of the Romesa Gallery in Dadu, has always been an avid painter. Photos courtesy: Sujag Sansar organization






Lashari's colleague provides 10 children with musical training at the gallery. Photos courtesy: Sujag Sansar organization




Lashari, born in 1947, says he has always had an affinity for painting. In 1958, his teacher at Dadu's Polite High School, Warial Soomro, encouraged him to pursue the hobby and work hard at transforming it into a profession. "I immersed myself in my art and after I completed my education in 1970, I found work as a drawing teacher at the same school I had learned to draw," he says.

After he retired from teaching in 1997, Lashari decided he did not want to spend his time idly. He organised an exhibition of his paintings in Karachi, Hyderabad and Dadu and paid for all expenses himself. After he received a favourable response, he approached the district coordination officer of Dadu to help organise another painting exhibition. It was through these exhibitions that he reached out to younger artists and promoted his craft. Lashari has continued this outreach through the gallery by holding regular events and painting competitions here.

Lashari bears all the expenses of the gallery. While he says friends such as Hakim Ali Shah Bukhari, Ahmed Suhag, poet and senior advocate Muneer Gozai, Noor Muhamda Soomro, Sher Muhamad Bhurgri, Saleem Jamali and others encourage him, he bears all the costs of maintaining his pet project. He has also compiled a book of Dadu's history through his paintings and is working to have this tome published.





Lashari has also compiled a book of Dadu's history through his paintings. Photos courtesy: Sujag Sansar organization




Lashari says he dreams of expanding the gallery to include a hostel and other facilities where students from Dadu and other parts of the province or country could pursue an education and meet likeminded artists. "I aspire to make Romesa Gallery the Shanti Niketan of Sindh," he says with pride, referring to the nerve centre of West Bengal's art and culture, pioneered by Bengali poet Rabindranath Tagore, and now a flourishing university town, attracting thousands of visitors every year.

Gulsher Panhwer is a consultant and freelance columnist focusing on environmental and cultural issues.

Published in The Express Tribune, Sunday Magazine, April 5th,  2015.