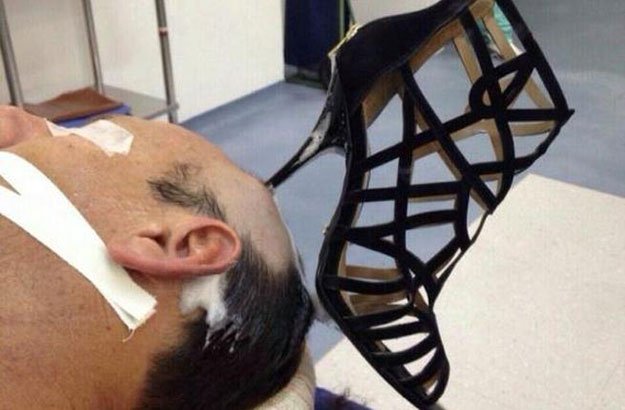 ---
SAUDI ARABIA: In a first of its kind medical case, a man in Saudi Arabia was admitted to a hospital with the stiletto of a heel lodged in his head . 

Local media reports said that the incident took place following a dispute between the man and his wife which led her to hit him in the head with the heel of her shoe.

Upon his arrival at the hospital, doctors said they had never encountered such a case before.

The news of the incident caused quite a stir and many took to social media to tweet about the rare case.


#Saudi man admitted to hospital with the heel of his wife's stiletto lodged in his head. http://t.co/pqgwjBLk1l

— Raquel Saraswati (@RaquelEvita) March 31, 2015
I dont mean to be trivial about domestic violence, but ahem ahem!

"Man hospitalized with a heel in his head!"http://t.co/gdZhYR9xWy

— Shuja Malik (@shuja_malik) March 30, 2015
Bad night with the wife. Man ends up with high-heel shoe lodged in head. http://t.co/iaY4FXy0xT pic.twitter.com/ovpu4Mu8bk

— The Mouse (@audiobook___) March 30, 2015
Saudi Man Admitted to Hospital with Shoe Heel in His Head deatails on http://t.co/WC52QBuIZr http://t.co/yQiXxcQwze

— winkfm.net (@WinkFmUg) March 31, 2015


https://twitter.com/desktopdiarist/status/582900002030141441

https://twitter.com/MarjaoPliss/status/582856680750219264


#Saudi man hospitalized wid heel lodged in head after dispute with wife http://t.co/hc48VUtHsp
ay mei apny husband wasty save kr k rkhna ay

— Maham Mahi (@Mahamboli) March 31, 2015
Don't mess with this wife. 😠 Man admitted with stiletto heel of a woman's shoe in his head. http://t.co/dHzmBllDKd pic.twitter.com/VgItfQTql1

— Free ebooks (@ebook_dude) March 31, 2015
This article originally appeared on Riyadh Connect
COMMENTS (14)
Comments are moderated and generally will be posted if they are on-topic and not abusive.
For more information, please see our Comments FAQ