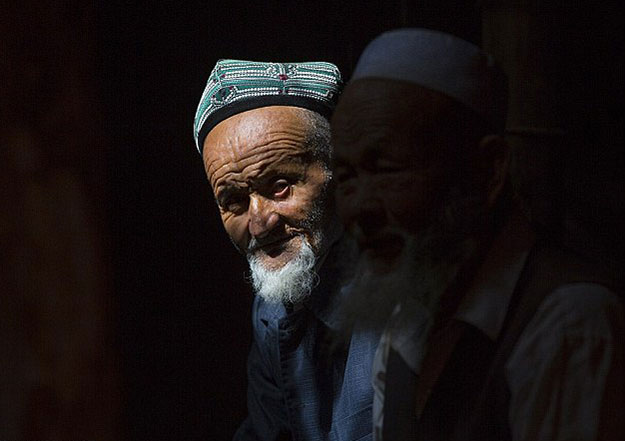 ---
BEIJING: A court in China's mainly Muslim Xinjiang region has sentenced a man to six years in prison for "provoking trouble" and growing a beard, a practice discouraged by local authorities, a newspaper reported Sunday.

The court in the desert oasis city of Kashgar sentenced the 38-year-old Uighur to six years, while his wife was given a two-year sentence, according to the China Youth Daily.

The man "had started growing his beard in 2010" while his wife "wore a veil hiding her face and a burqa", the paper said.

Read: Malaysian chief judge's racist remarks infuriate Pakistanis

The couple were found guilty of "picking quarrels and provoking trouble", a vague accusation regularly used in the Chinese judicial system.

For more than a year the authorities in Xinjiang have been campaigning against men growing beards - a practice officials associate with extremist ideas.

Read: Muslim designer showcases strapless gown to combat fashion racism

A campaign dubbed "Project Beauty" also encourages women to leave their heads bare and abandon wearing the veil, a relatively widespread practice among the Uighurs - the main Muslim ethnic group in Xinjiang.







PHOTO: MAIL ONLINE




The Kashgar couple had "received several warnings" before being charged, the newspaper reported, citing local officials.

"Since the beginning of the year, a certain number of people breaking the regulation on beards, veils and burqas have been prosecuted and sentenced," officials in Kashgar were quoted as saying by the paper.

Kashgar authorities could not be reached for comment Sunday.

Rights groups believe Beijing's repression of the Uighurs' culture and religion has fanned tensions in Xinjiang, a resource-rich region that abuts central Asia.

Violence increased last year and at least 200 people were killed in a series of bombings and deadly clashes with security forces, blamed by Beijing on "separatists" and "religious extremists".

In April last year authorities in Xinjiang's Shaya county offered cash to informants to report on neighbours with excessive facial hair.

In August authorities in Karamay city banned people with large beards or Islamic clothing from travelling on public buses.

Shocked at the jail sentence rights group said in a statement that such a case would not happen in any other country.

"It is unacceptable and absurd. It exposes China's hostile attitude and crisis of governance," said spokesperson for the exile World Uyghur Congress.

He added that "If a Chinese person grows a beard, it is a personal fashion he is allowed to choose freely. If a Uighur grows a beard, he is a religious extremist."

Shocked at the decision of the court, many took to Twitter to express their views on the jail sentence:


Chinese court jails a man for 6 years for growing beard
This is called Oppression #AdarshLiberals http://t.co/beifpdTV43 via @timesofindia

— Vivek Raghuvanshi (@Lohana1983) March 30, 2015


https://twitter.com/shahbaz_dar/status/582352953995968514


Chinese court jails Uyghur #Muslim for 6 years for growing beard. #MuslimLivesMatter pic.twitter.com/ii942llUKd

— Abdugheni Sabit (@AbdugheniSabit) March 30, 2015
CHINA Man jailed for six years... for growing a beard http://t.co/WWG1HVutgY via @MetroUK

— Carol Anne Grayson (@Quickieleaks) March 30, 2015
Court in #China jails Muslim man for 6 years for growing a beard.... http://t.co/FZlWRS2jaO

— Steve Chao (@SteveChaoSC) March 30, 2015
Feeling strange when growing a beard or wearing hijab? Don't worry, Allah has promised glad tidings for such strangers!

— عبدالله العالمي (@abdullih99) March 30, 2015
COMMENTS (31)
Comments are moderated and generally will be posted if they are on-topic and not abusive.
For more information, please see our Comments FAQ