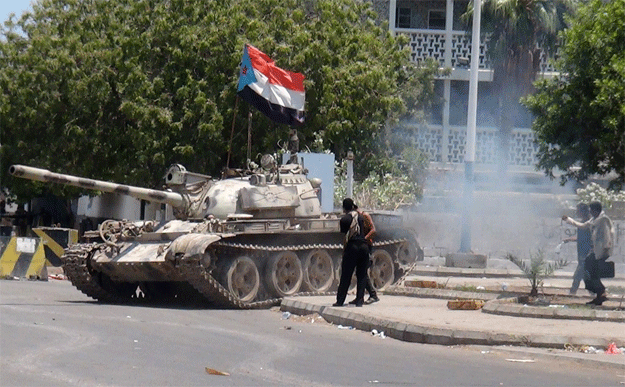 ---
ISLAMABAD:



Hundreds of Pakistanis are stranded in strife-torn Yemen as a Saudi-led military coalition mounted air strikes against the positions of Houthi rebels in an attempt to weaken the rebellion against the beleaguered president, Abd Rabbuh Mansur Hadi.




According to unofficial estimates, 560 Pakistanis are stranded in the besieged Yemeni capital of Sanaa. Pakistan's foreign ministry officials say around 2,145 Pakistanis are currently living in Yemen while the local media reported that "half of them are in a state of uncertainty and fear".

"We, Pakistanis, are very nervous. We have been surrounded by Houthi rebels. We appeal to our government to evacuate us, please," Rehan Ali, a Pakistani national, told a news channel in Pakistan. Ali also complained that the Pakistani diplomatic mission in Sanaa has yet to start evacuating the stranded Pakistanis.

Around 37 Pakistani prisoners are also imprisoned in various jails of Yemen on charges ranging from illegal stay to drug trafficking and fraud, foreign ministry officials said.

Pakistan Tehreek-e-Insaf leader Dr Arif Alvi warned that if Pakistan joined the Saudi-led military coalition, it would risk the lives of hundreds of its citizens trapped in the strife-torn country. "If Pak-Govt gets involved with troops, their [Pakistanis] lives would be in greater danger cause/effect cycle," Dr Alvi said on microblogging site Twitter.

Pervaiz Iftikhar Hussain, a businessman living in Sanaa told Newsweek via phone that "if Islamabad joined the anti-Houthi coalition, the Pakistani nationals could face retaliation from locals."

Prime Minister Nawaz Sharif, meanwhile, directed his top aide on foreign policy Sartaj Aziz to ensure all Pakistanis are safely evacuated. "Keeping in view the deteriorating situation in Yemen the prime minister has given instructions for immediate evacuation of the stranded Pakistani families there," according to an official statement issued by Prime Minister Office.

"People living in Yemen are vulnerable to all sorts of crimes, including kidnapping, as the state system is collapsing.

The foreign ministry spokeswoman, Tasneem Aslam, said that Pakistan's embassy in Sanaa was exploring all possible options for evacuation of Pakistani citizens as soon as it was feasible, given the flights situation. "Our compatriots in Yemen were advised in the last two months to evacuate. All efforts for safety of those who didn't leave are being made," she added.


Published in The Express Tribune, March 28th, 2015.