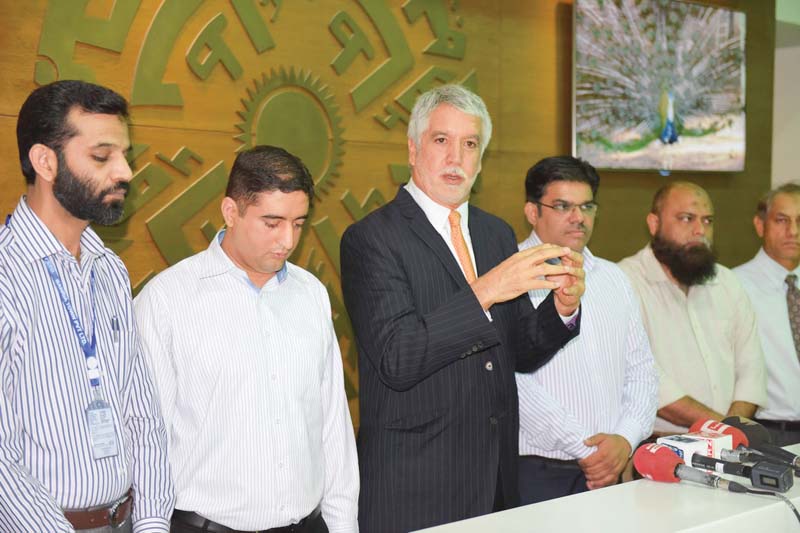 ---
KARACHI: Former Columbia mayor and expert in urban city transport system Enrique Penelosa has said that a 'Bus Rapid Transit (BRT)' is the only way to deal with Karachi's traffic mess, which is likely to choke further in coming years.

Talking to the media at the Bahria Icon Tower alongside representatives of Bahria Town on Thursday, Penelosa said Bahria Town's Blue Line BRT system has very special characteristics which will make it an urban improvement project, rather than just a transport system.

"I would say, this project is an aspiration for Karachi; it is about giving value to the things that are deemed important for the society," he said.

The Blue Line BRT will pass through Karachi's MA Jinnah road, which Penelosa called a 'treasure' due to the historical buildings that line it.

"MA Jinnah road has a history associated with it; earlier, when the tourists visited Karachi, they loved to walk down this road," he said. "Today, tall buildings covered with ugly billboards have sprung up on both sides of the road.  There is no space left for even the pedestrians."

Sharing his experience with other metropolises, such as Dublin, London and Madrid, Penelosa said that pedestrian walk spaces are an important feature of these cities. "The Blue line would make it possible to recover further spaces in the city center with beautiful footpaths," he said. "In this context, this initiative will not only be a transport project, it is likely to make Karachi a different city."

According to Penelosa, where right now it takes 30 minutes for someone to travel to Karachi's city center, it will take just 15 minutes once the BRT starts functioning.

"For this project, we have been working with Bahria Town with experienced engineers to make Karachi a dream city," he said.

Published in The Express Tribune, March 27th, 2015.