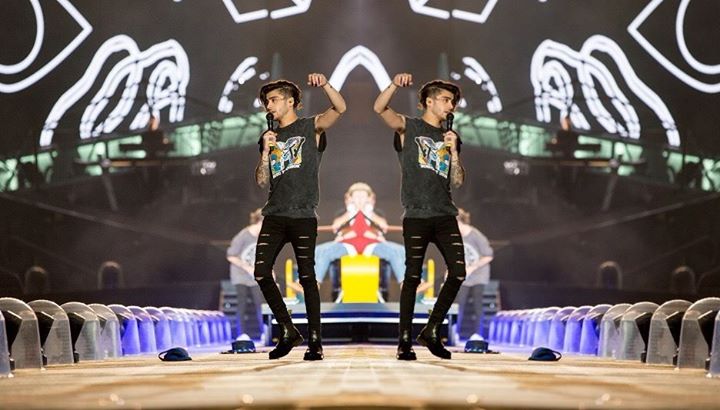 ---
If you hadn't heard Pakistani-British singing sensation Zayn Malik's name before, you definitely came across it last night.

The 22-year-old singer from British boy band One Direction broke the Internet along with countless hearts when he announced his decision to quit the band on their official Facebook page last night.

Read: Zayn Malik quits 'One Direction', says wants normal life


PHOTO: FACEBOOK/ONEDIRECTION

While he's certainly not the first member of a world-famous music band to leave, 'crying' went viral among his teenage fans. Devastation is an understatement.

However, many people were simply baffled. We backtrack a little for you.

Who is Zayn Malik?

Zayn Malik is a British-Pakistani born to Yaser Malik and Tricia (an Englishwoman) on January 12, 1993. The 22-year-old, who was one of the five singers of One Direction till March 25, has three sisters, Doniya, Waliha and Safa and an extended family of Pakistani origin in the UK.

In 2012, British tabloid Daily Mail ran a story on Zayn celebrating Eid along with his girlfriend Perri Edwards with his father's family.

Why his departure is a big deal?

Although he is not the first to walk out of a band, Zayn's decision has shattered millions of hearts and dreams.

Considered the 'hottest' and the most 'mysterious' member of the band, the reactions were no surprise given his popularity and 14.4 million following on Twitter.

Read: #Apocalypse now: Teenage meltdown underway as Zayn Malik quits One Direction

In the fandom of One Direction, Pakistanis do not fall behind; maybe because the 'bad boy' of the band is one of our own – a Pakistani.

However, Zayn's departure might be a big deal for those simply following the band out of love for the 22-year-old. But for those who are fans of the band as a whole, the good news is, as emphasised on Zayn's Facebook post, that the band will continue as a four-piece.

"Niall, Harry, Liam and Louis will continue as a four-piece and look forward to the forthcoming concerts of their world tour and recording their fifth album, due to be released later this year," the statement read.

Was his departure imminent?

It may have come as a shock and as some Twitteratis said, 'a sick joke' but Zayn's departure was imminent.

His decision to leave the band came just a week after he left a world tour midway and returned home to the UK.

Citing stress as the reason for signing off and flying back to the UK to recuperate, Zayn left the tour after being embroiled in a cheating controversy.

Read: Pakistani-British sensation Zayn Malik embroiled in 'cheating' controversy

Zayn was forced to assure fans he had not cheated on his fiancé Perrie Edwards of Little Mix, having been spotted getting close with 'Essex girl' Lauren Richardson while on a night out in Phuket, Thailand.

He tweeted: 'I'm sorry for what it looks like…I love Perrie!' referring to fiancée Perrie Edwards, a Little Mix singer.

In his departing statement, Zayn wrote, "I am leaving because I want to be a normal 22-year-old who is able to relax and have some private time out of the spotlight."

Evidently, his decision to resign from the band is indicative of his hectic and glamorous life, but with not even an iota of privacy catching up with him.

What happens to One Direction now?

The band defied odds last year as they became the first band in history to debut with three No 1 albums in a row.

As the remaining four in the statement vow to carry on, it is too early to comment on what the future has in store for one of the most popular British bands.

The World Tour of the band will go on as scheduled but some reacted claiming they had only bought tickets to see Zayn.


PHOTO: FACEBOOK/ONEDIRECTION

What about 'Directioners'?

As fans across the world began documenting how hard they had been hit by the evidently indigestible news it appeared as if the world was over. But as Harry, Liam, Louis and Niall vow to go on something tell us like other fans of bands that went through break-ups, 'Directioners' too will survive.

Well, they appear devastated. But there are still four other members, so something tells us they'll pull through.