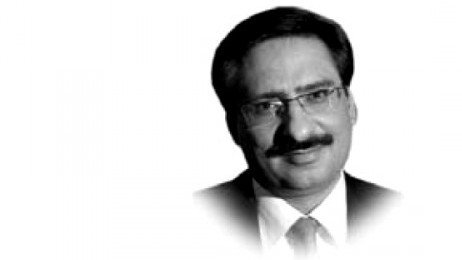 ---
Truth be told, I am a fan of Rehman Malik, the man does not shy away from a challenge. Send him to the MQM chief, Altaf Hussain and he will manage to bring him home. In fact, he can hold negotiations with the Taliban and subsequently announce credible evidence to prove 'India's involvement in Balochistan'. To top it all, he is energetic and always actively involved in issues. There is a saying in Punjabi that in order to be successful, a man should never feel exhausted, never be bored and never hesitate to do anything and Rehman Malik is just such a man.

However, I do think that other party members are jealous and spread rumours to cast a shadow of suspicion over his loyalty. His significance as a party member can be gauged by President Asif Ali Zardari saying: "If I ask him to jump into the fire, he [Malik] will do so without hesitation."

Having said that, Malik's reputation within the party and the leadership has a background. For example, when Benazir Bhutto's and Asif Zardari's accounts were frozen, he diligently managed all the party funds and served his leaders, all the way from London. He also has a long history of government service.

He was additional director-general of the FIA in 1996 during Benazir's second government. However, Farooq Leghari sacked that regime and the National Accountability Bureau took action against him and he was suspended. Later, during Nawaz Sharif's government he lost his job and his reinstatement appeal was turned down by then-president Rafiq Tarar.

Now, after Benazir Bhutto's assassination, it was Rehman Malik whose commitment helped Asif Zardari keep control over the PPP. It goes to his credit that Mr Zardari is the president of Pakistan. On March 27, 2008, he was appointed interior ministry adviser, and then he was selected as a senator and then made interior minister. I would say that 80 per cent of the success achieved by the government to come out of the whirlpool of terrorism is because of him.

Still, regardless of his immense potential and loyal service, the law cannot be ignored. In order for a country to progress and win the people's respect the law and merit must be held in the highest regard — above all personal likes and agendas. Rehman Malik's appeals in court are still pending and on April 20, acting upon the prime minister's recommendations, President Zardari converted Rehman Malik's termination from the FIA into retirement.

The result is that our interior minister will be awarded all facilities and benefits back-dated from November 15, 2002. Such measures are unethical and should not have been approved. A word of caution to the government, please stop behaving in such a manner that will not only destroy your reputation but also malign 'politics' in general.
COMMENTS (22)
Comments are moderated and generally will be posted if they are on-topic and not abusive.
For more information, please see our Comments FAQ