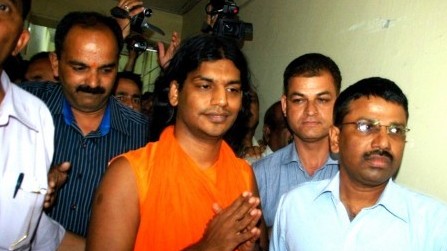 ---
BANGALORE: An Indian guru arrested after being shown on television fondling two women in bed made devotees sign contracts permitting nudity at his ashram and sexual contact, police said.

The document came to light when police searched Paramhamsa Nityananda's lavish retreat 30 kilometres (20 miles) from India's southern software capital of Bangalore, said D.V. Guruprasad, a senior police official.

It asks volunteers to understand that the programmes they sign up for at his ashram "may involve the learning and practice of ancient secrets associated with male and female ecstasy, including the use of sexual energy for increased intimacy/spiritual connection."

The long-haired guru, usually seen dressed in saffron robes, claims to have devotees in 33 countries. The 32-year-old was arrested along with an aide on Wednesday for obscenity, hurting religious sentiment and other charges, and is in custody.

The video clip triggered public anger that led to irate followers ransacking his ashram, but Nityananda has maintained the pictures were doctored. India has been rocked by a series of scandals involving self-styled "godmen" who have been allegedly running vice rings and cheating people under the guise of legitimate religious practices.

Another "guru" was arrested in New Delhi in March on charges of running a prostitution racket involving airline cabin crew and college girls.