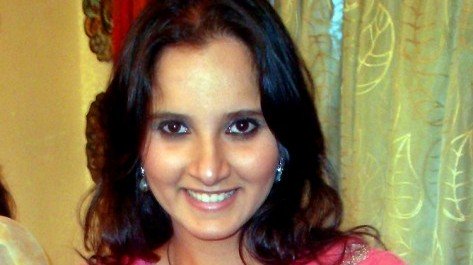 ---
MUMBAI: Newly wed tennis star Sania Mirza said that she will retain her maiden name and play for another 3 to 4 years.

In an interview to People magazine along with husband and former Pakistan cricket captain Shoaib Malik, Sania said, "No matter what happens I am always going to be Sania Mirza. Maybe later I'll add his name."

She said they have chosen Palm Jumeirah in Dubai as their new residence. "My husband wants to live in Palm Jumeirah and I am not fussy, so that's where we live," said Sania.

The couple said their courtship developed over telephone after the first few meetings. "Suddenly we were constantly texting and then we started talking on the phone for hours. So that's where things started for us," said Sania.

Sania said her mother would keep saying that she was wasting so much money on phone calls. "I would tell her that it's not a waste," the 23 year old tennis star said. On the controversy surrounding their marriage, the two of them said it brought them closer together.

"Hats off to my parents who supported Shoaib like they have stood by me even before he became a part of the family. That got us all much closer," said Sania.

Shoaib said that he also had full faith in Sania's love. "Sania always knew the truth so I was very confident. We were together and surrounded by people who loved and supported us."

When asked about their busy schedules, Shoaib said, "We are going to be together for a lifetime so it won't be very difficult to stay away from each other for a few weeks or months." "Anyway, it's temporary. I'll probably play for another 3 to 4 years," Sania added.

Sania said Shoaib was more romantic than her. "He is more romantic. When I was getting the mehndi done, he sat with me for four hours because he wanted to." On their marriage, she said, "Five years from now when we go on a drive, I want us to be excited at the thought of being together and holding hands." Shoaib said Sania was very adjusting, extremely sweet and very punctual.

More importantly, she doesn't get angry, he said. Sania felt Shoaib was an easy person to live with. "We have spent the last seven days together and we haven't felt like we are in each other's face. It's been very easy to live with him," she said of her week-old marriage.
COMMENTS
Comments are moderated and generally will be posted if they are on-topic and not abusive.
For more information, please see our Comments FAQ