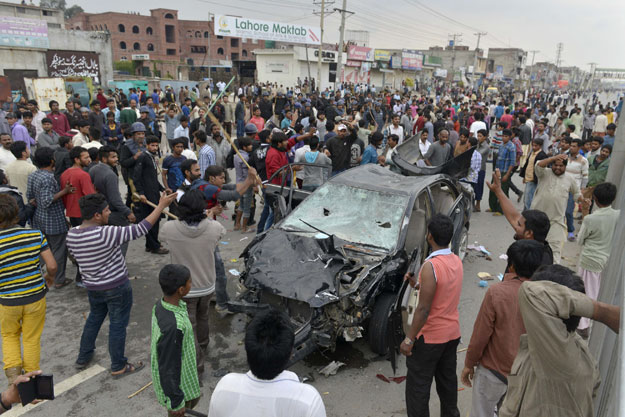 ---
LAHORE:



Two more victims of the suicide attacks in Youhanabad on Sunday died at the Lahore General Hospital on Monday. As violent protests continued for the second day in Youhanabad, two boys were killed amid rioting.




Lahore General Hospital administration said 13 people were brought to the LGH on Monday. They had received serious injuries in the riots that had ensued the day after the attacks on Christ Church and St Johns Catholic Church. Danish, 12, and Amir, 15, succumbed to injuries received during protests.




LGH Medical Superintendent Saeed Soban said the death count for the suicide attacks had gone up to 17. He said 16 victims were still undergoing treatment in the Surgical Unit II, Ward 19, Surgical ICU, Orthopaedic Emergency and the surgical operation theatre. He said the condition of three patients was critical.

Emergency Director Dr Munawar said they had performed more than 12 surgeries. He said they had not yet removed ball bearings or pellets in any case.

Khushi Masih, 55, who was brought to LGH with a serious head injury on Sunday, passed away in Ward 19 on Monday. His family and eight children had sat in the corridor outside the ward praying for a miracle and reading verses from the Bible.

Barkat Masih, 60, died soon after in the Surgical ICU.

Several relatives of the injured said they were not satisfied with the quality of treatment and facilities at the LGH. Many said they did not want any compensation, only the assurance that their relatives would survive.

Advocate Mureed Bhutta, a relative of 16-year-old Mujahid Iqbal in Ward 19, said the government had failed to provide adequate security, "now it can't provide decent medical treatment… We should not have to run from pillar to post trying to get X-rays and other medical tests done. We shouldn't have to run around looking for doctors and medical supplies."

He said there were many political VIPs visiting the hospital. "They are only using this as a photo-op. Their visitations haven't changed the fact that the injured aren't getting proper medical care," he said.

Sikandar Inayat Masih, 26, admitted in the Orthopaedic Emergency said that the doctors had put a plaster on his leg without stemming the blood flow from the wounds on his leg. He said the bleeding hadn't stopped and blood was oozing out of the plaster. "I've begged them to do something to stop the bleeding but they keep cleaning the wounds and bandage it up again," he said.

Professor Irfan Mehboob at the Orthopaedic Emergency Ward said Sikander Inayat had a ball bearing lodged in his leg and they wanted to wait to remove it till the risk of a possible infection was addressed. "We will operate on him as soon as it's safe to proceed," he said. Sikandar Masih lost his left eye and suffered multiple fractures to his leg in the incident. He said they were not properly treated. He said that they didn't need the compensation money from the government.

Adnan Gill,another patient at the ward, expressed similar concerns. "I was made to wait for six hours in a corridor in excruciating pain for a digital X-ray." He said the hospital staff had gotten several X-rays done but did not find any fractures. He said he had complained to the hospital staff of severe abdominal pain but nobody had addressed the complaint. Hospital MS Soban said that they were using two portable X-ray machines for the patients. "We are trying our best to provide patients prompt treatment," he said.

Published in The Express Tribune, March 17th, 2015.