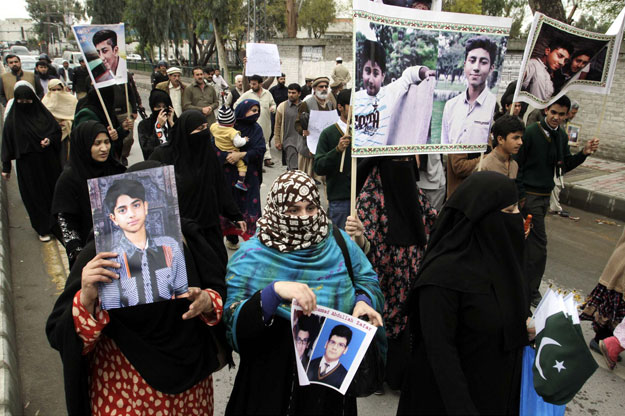 ---
PESHAWAR: Three months after the tragic Army Public School massacre, relatives of students and staff killed, students and social activists still await answers about the brutal act. At a protest against the federal government and security forces on Monday, the protesters gave the government a 24-hour deadline to bring the perpetrators of the terrorist attack to justice. 

The protest rally started at Peshawar Press Club, passed through Saddar Road and culminated at Stadium Chowk. The protesters were holding placards and banners carrying pictures of the slain schoolchildren and demanded Nishan-e-Haider awards for them.

Another protest call was made for outside the CM House on March 19.

Before the rally started, Shuhada Ghazi Forum General Secretary Ajun Khan said, "Three months have passed but we still don't have any clue of the killers' identities and their accomplices." Khan said the Peshawar corps commander is responsible for the security lapse which led to the deaths of hundreds of students.




The forum members gave a 24-hour ultimatum to Prime Minister Nawaz Sharif to expose all "internal and external elements" involved in the heinous crime or the forum will protest outside the CM House and the Supreme Court in Islamabad.

"In our country, justice cannot be secured without protests," said Khan, "We will contact the United Nations for justice if our own government cannot provide justice to the victims' families even after protests."  The families of deceased children refused to accept the highest civilian award, the Tamgah-e-Shujaat, and demanded the highest military award, Nishan-e-Haider instead.

According to the families they would accept no other award and if the government needs to amend the Constitution to award the children and teachers Nishan-e-Haider, it should do so.  On December 16, last year, armed militants laid siege to the army-run school for several hours and killed 151 people, most of them schoolchildren.

Published in The Express Tribune, March 17th, 2015.