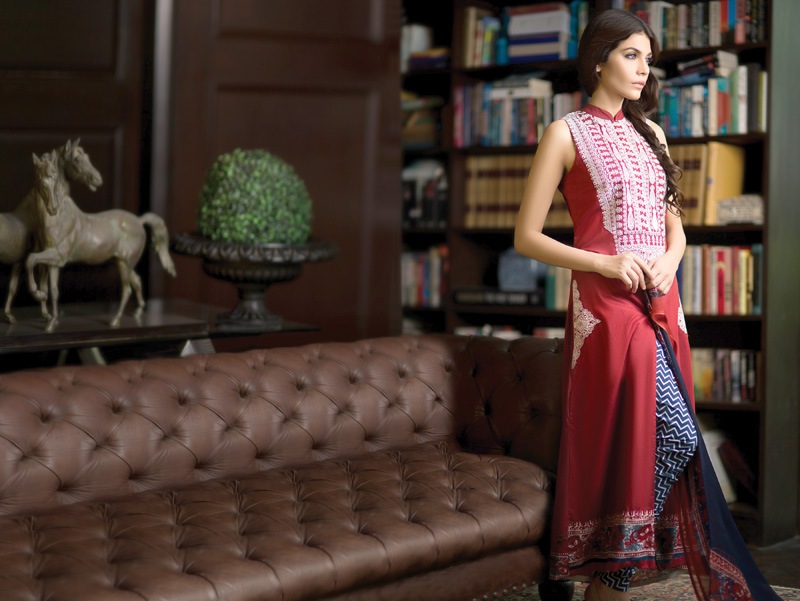 ---
LONDON: In recent times, the Pakistani lawn business has expanded into a number of countries, including UK, UAE, Malaysia, India and even North and South America.

Last year, Khaadi – a Pakistani brand – opened a store in one of the most prestigious fashion venues in Kuala Lumpur, The Pavilion. It also opened a couple of stores in the fashionable Westfield Shopping Centres in London.

Khaadi in UK is gradually becoming popular not only amongst young British Pakistani women but foreigners are also interested in modern ethnic dresses. Although it is yet to beat the likes of Gul Ahmed, Nishat Linen, Al Karam and Sana Safinaz within Pakistan, Khaadi has emerged as the number one Pakistani female fashion brand on a global level.

According to a survey conducted by the London-based Edbiz Consulting, the likes of Nishat Linen, Khaadi and Generation appeal to the new generation, while the likes of Gul Ahmed remain popular amongst the 30 to 40 age bracket.

This is the age group that possesses the real purchasing power and that is what Gul Ahmed has kept the main focus on in its business strategy. Furthermore, the company is not completely ignoring the younger generation, as is evidenced by its aggressive marketing campaign for the new summer collection of 2015.

Despite the mushrooming of over 350 designer brands in Pakistan, Gul Ahmed remains the most popular lawn brand, trusted by all income groups; from middle class to upwards, in both the urban and sub-urban (semi-rural) areas.

The survey by Edbiz revealed that 87% of the women in the national sample trusted Gul Ahmed the most. However, when the sample was truncated to consider only urban respondents, it slipped to third position after Khaadi and Nishat Linen.




Satrangi by Bonanza is number 10 in the national sample, while it does not feature in the top 10 urban brands. However, it strangely stands out as number one amongst the respondents from the district of Gujranwala.

The table below presents standing of the top 10 lawn brands in Pakistan.

A different model

Nishat Linen (NL) is an interesting brand to analyse. Apparently, its flexible sales model is the key to its success. Unlike other lawn brands, NL's customers have the option of buying the materials in any quantity.

"I like NL because it gives me the flexibility to buy any length of fabric I require, which means I don't have to buy the full suit," said Gulbano Bukhari, a resident of Lahore.

Kayseria and NL are preferred by women who like light and thin fabrics with a silky texture. "I have bought Kayseria and NL time and again and will continue to do so because I prefer a lawn that gives maximum comfort to the body in addition to being trendy and fashionable," says Rizwana Akbar, a housewife.

There are some exclusions from the above list as many designers collaborate with manufacturers, for example the HSY collection with Ittehad Textile and Faraz Manan with Firdaus Lawn. A proportion of respondents regarded HSY's collection a 'not value for money' and mentioned a few quality concerns as well.

However, it should be mentioned that the Edbiz survey is just a benchmark and there are a lot of different preferences and factors that affect the choice of lawn selection for the women of Pakistan.

"All the designer lawns are a complete waste of money," says Arifa Shaheen, a housewife from the Gujranwala district. "Why should I spend Rs6,000 when I can buy a suit of 'Arabic lawn' for one-tenth of it?"

Apparently, a Korean linen fabric – commonly known as Arabic lawn – is gaining popularity because of its vibrant colours and reasonable price.

Although many industry observers contend that the demand for lawn business is declining with every passing year, but this is not supported by the trend of a new brand emerging every now and then.

Kamal Lawn – with an extensive marketing campaign – was launched last week. The promoters must have done their market research before embarking upon a business that already that has such massive competition.

Whatever be the state of affairs of the domestic demand for lawn, the real opportunity lies in the international market. If a right strategy is adopted by the likes of Khaadi, it is not difficult for it to develop itself into something like Monsoon, the UK fashion design that has become a respected high street brand.

The writer is an economist and a Phd from Cambridge University

Published in The Express Tribune, March  16th,  2015.

Like Business on Facebook, follow @TribuneBiz on Twitter to stay informed and join in the conversation.
COMMENTS (2)
Comments are moderated and generally will be posted if they are on-topic and not abusive.
For more information, please see our Comments FAQ