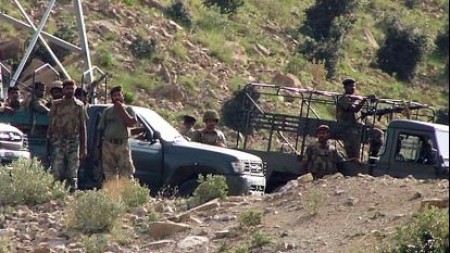 ---
WAZIRISTAN: Seven Pakistani soldiers have been killed and 16 wounded after militants armed with guns and rocket launchers ambushed their convoy in the northwest tribal belt, officials said on Friday.

Dozens of Islamist insurgents on Thursday attacked the troops in North Waziristan, part of the lawless tribal region bordering Afghanistan and a known sanctuary of the Taliban and other Al-Qaeda-linked militant groups.

Two officers were among the dead in the attack in Dattakhel, a particularly restive area about 20 kilometres (12 miles) from the main town Miranshah, a military statement said. "It was a pre-planned attack.

Dozens of militants first fired several rockets and then used other weapons and guns," an intelligence official based in Miranshah said, adding that four military vehicles were destroyed. A military statement said the convoy on a routine mission from Miranshah to Dattakhel when they were ambushed.

Under US pressure, Pakistan has in the past year significantly increased operations against militants in its tribal belt, which Washington has called the most dangerous region on Earth and a global headquarters of Al-Qaeda.

The rugged tribal terrain became a stronghold for hundreds of extremists who fled neighbouring Afghanistan after the US-led invasion in late 2001. North Waziristan neighbours South Waziristan, where Pakistan has been focusing its most ambitious military offensive yet against homegrown Taliban militants.

It sent about 30,000 troops into the region last October. However the military has so far appeared unwilling to launch a similar all-out assault into North Waziristan, and officials say that many insurgents have fled the South Waziristan operation into the neighbouring district.

Militants kill four alleged spies

Meanwhile, militants have killed four men, beheading two and dumping the bodies in Pakistan's northwest tribal belt after accusing them of spying for the United States, officials said on Friday. The bodies were found by the side of a road in Khadi village, 25 kilometres (15 miles) east of Miranshah, the main town in the tribal North Waziristan region near the Afghan border, local police officer Kalam Khan told AFP.