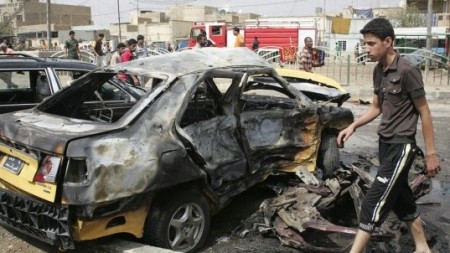 ---
FALLUJA: Bombs targeting Shi'ite areas killed at least 56 people in Baghdad on Friday in a possible backlash after Iraq touted a series of blows against al Qaeda.

Eight people were also killed by bombs in the Sunni west of the country.

Seven blasts hit different areas of the Iraqi capital around the time of Muslim prayers, mostly near Shi'ite mosques and at a marketplace, an interior ministry source said. Around 112 people were wounded.

"Targeting prayers in areas with a certain majority," Baghdad security spokesman Maj. Gen. Qassim al-Moussawi said, referring to Iraq's Shi'ite Muslim majority, "is a revenge for the losses suffered by al Qaeda.

"We expect such terrorist acts to continue."

Last Sunday, al Qaeda's leader in Iraq, Abu Ayyub al-Masri, and Abu Omar al-Baghdadi, the purported head of its affiliate, the Islamic State of Iraq, were killed in a raid in a rural area northwest of Baghdad by Iraqi and U.S. forces.

In Friday's attacks, at least 21 people were killed and more than that number were wounded when three bombs exploded in populated Sadr City slum.

Another bomb killed at least 11 and wounded 17 near a Shi'ite mosque in al-Ameen district in southeastern Baghdad. An earlier car bomb killed three people near a Shi'ite mosque in the northwestern neighbourhood of al-Hurriya, police said.

Hours earlier, seven members of one family were killed in a series of blasts in Khalidiya, a town in Iraq's turbulent western province of Anbar 83 km (50 miles) west of Baghdad. One police officer died trying to defuse a bomb.

The mainly Sunni province of Anbar has been relatively quiet since tribal leaders in 2006 started turning on Sunni Islamist groups such as al Qaeda who had once dominated it. But insurgents continue to operate in the vast desert province.
COMMENTS
Comments are moderated and generally will be posted if they are on-topic and not abusive.
For more information, please see our Comments FAQ