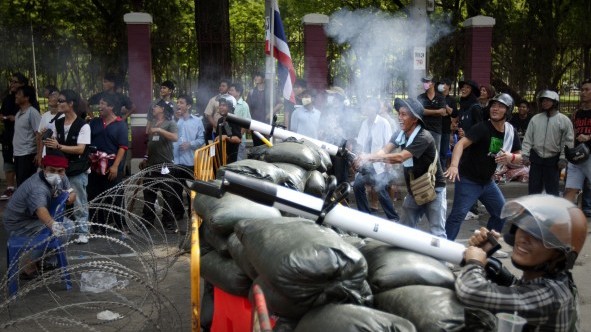 ---
BANGKOK: Thai police sought on Friday to push back anti-government 'Red Shirts' from a confrontation zone in Bangkok after deadly grenade attacks further stoked tensions in the long-running political standoff.

Hundreds of riot police, unarmed but carrying shields and batons, moved on the heavily fortified barricades which form the front line of the Reds' vast encampment that has paralysed the main retail district in the heart of Bangkok.

"Police asked protesters to move their barricade some 100 metres... to ease the confrontation but so far there is no agreement," Major General Anuchai Lekbumrung of Bangkok Metropolitan Police told AFP.

"There will more talks this afternoon," he said after police later withdrew from the barricades, a three-metre (10-foot) high wall of car tyres, sharpened bamboo staves and plastic sheeting which has also been doused with fuel.

The action came after five grenade blasts hit the area on Thursday night, targeting hundreds of pro-government supporters in attacks that left one Thai woman dead and scores wounded, including foreigners.

It was the latest bloodshed on the streets of Bangkok in the weeks-long standoff between the government and Red Shirts, and triggered alarm in the international community which issued urgent calls for for restraint.

Deputy Prime Minister Suthep Thaugsuban said the grenades were fired from within the sprawling Red Shirt encampment, but leaders of the protest movement -- who are campaigning for snap elections -- denied they were responsible.

"The bomb attacks last night have nothing to do with our movement, we still adhere to a policy of non-violence," said Red Shirt leader Nattawut Saikuar, accusing the government of orchestrating the blasts.

Nattawut told demonstrators to prepare for a crackdown by security forces, which have warned time is running out for Red Shirts who have staged rolling street rallies since mid-March.

"The authorities are trying to push in," Nattawut told the crowd from a rally stage, where live pop music was playing to entertain a dancing crowd despite Thursday's bloodshed.

The grenade blasts came after a failed attempt by authorities on April 10 to disperse the Red Shirts, sparking clashes that left 25 people dead and more than 800 injured in the worst civil unrest in almost two decades.

Suthep had said three were killed in the blasts, but emergency services and the health ministry said Friday that only one person was killed, a Thai woman.

The number of injured was put at between 78 and 85, including up to four foreigners -- an Australian man, an American, a Japanese citizen, and an Indonesian.

Ambulances rushed away bloodied victims after the grenades exploded at a station in the elevated Skytrain network, outside the exclusive Dusit Thani hotel and near a bank, causing panic on the streets.

The crowd of hundreds of government supporters, neatly dressed people of all ages who had been peacefully singing to Thai folk music and waving national flags, scattered into the night taking their injured with them.

The blast scene was littered with pools of blood along with abandoned shoes and Thai flags, in an area dotted with dozens of corporate towers as well as a notorious red-light district.

Clashes later broke out between riot police and hardcore pro-government demonstrators who had hurled bottles at their Reds rivals, triggering cat-and-mouse chases as police pursued the agitators through narrow alleys.

The United Nations appealed for restraint and several nations including the United States issued travel warnings for Thailand, which has been in turmoil since former premier Thaksin Shinawatra was ousted in a 2006 coup.

UN spokesman Martin Nesirky said the world body's chief Ban Ki-moon was "very concerned about the continuing standoff and tension in Thailand and the potential for this to escalate."

The army this week signalled it was preparing to crack down on the Red Shirts, and warned that security forces would use tear gas and live ammunition in any new clashes.

The Reds, drawn from the ranks of the rural poor as well as increasing numbers of urban working class, are mostly supporters of Thaksin, who is now living in exile to avoid a jail sentence for corruption.

They say the government of Prime Minister Abhisit Vejjajiva is illegitimate because it came to power in a parliamentary vote at the end of 2008 after a court ruling removed Thaksin's allies from office.
COMMENTS
Comments are moderated and generally will be posted if they are on-topic and not abusive.
For more information, please see our Comments FAQ