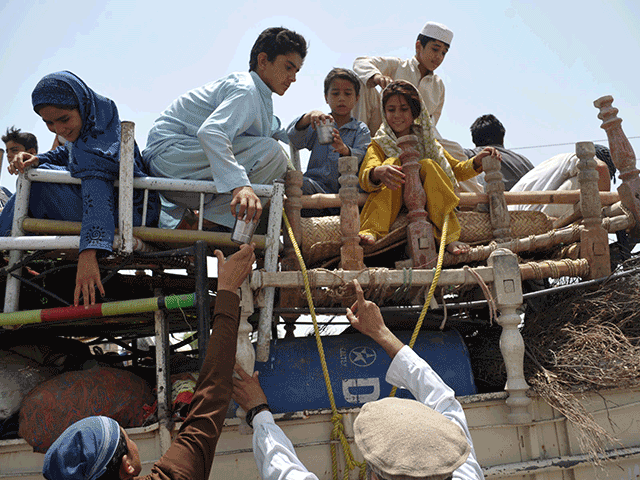 ---
PESHAWAR:



In a much-anticipated move, the FATA Disaster Management Authority (FDMA) has finally decided to tentatively send back families displaced from 29 villages of North Waziristan and Bara, Khyber Agency by the end of this month.




However, officials associated with the repatriation programme are still sceptical about the dates announced. Moreover, the United Nations, one of the main stakeholders, has not yet been given permission by the United Nations Department of Safety and Security and has sought more time to seek an NoC from its headquarters in New York, as North Waziristan remains a "no-go area" for its staff.




The decision to send back the "temporarily displaced" was taken in a meeting held on March 2 in the provincial capital. The FDMA DG briefed officials about the situation in North Waziristan and March 31 was decided as a tentative date to send back people from 29 villages of Mir Ali subdivision of the agency. Around 12,000 to 13,000 registered families from these villages will be sent back in Phase 1 of the repatriation process from an embarkation point set up at Mirzail check post in FR Bannu.

A senior official told The Express Tribune that families displaced from Aka Khel, Bara will be given the Voluntary Repatriation Form within the Jalozai Camp, while those living outside of camps can get the form near Melwart Fort, Bara. An embarkation point will be set up at Ring Road for off-camp tribes from March 10-15.

"The task seems to be a tough one, based mostly on wishes and prayers," said the official, adding there will be difficulties during the process, mostly security-related. "There is a plan, but the situation is not entirely feasible for its implementation."

The FDMA DG could not be reached for comments.

The road home

According to the official, the FDMA will provide transport grants of Rs10,000 to each family through mobile SIMs as well as repatriation cash grant of Rs25,000 through ATM cards. Moreover, UNICEF will hand out hygiene kits among the returning families and the World Food Programme will provide six months of ration.

However, what remains a major concern for the returning families is the destroyed infrastructure. While the government insists reconstruction will begin only when the IDPs return, tribesmen remain anxious about the homes and properties they left behind as they might no longer be standing after the military operation.

Future progress

The FATA Return and Rehabilitation Strategy has divided development of the tribal areas into three phases; rehabilitation and recovery, which will take about 24 months; medium-term development, to take two to five years; and long-term development, which will take five years and more.

Official records put the current estimated damage in all seven agencies of Fata at over $44.03 million; an additional $320 million is required for reconstruction of damaged houses.

While displacement trends show that a large number of displaced people remain outside of IDP camps, officials say the main challenge for the repatriation plan to succeed is to convince IDPs to go back, particularly those of Khyber Agency who are now almost permanent residents of Peshawar.

Humanitarian organisations, however, are concerned that repatriation should remain voluntary and not forced.

Published in The Express Tribune, March 5th, 2015.
COMMENTS
Comments are moderated and generally will be posted if they are on-topic and not abusive.
For more information, please see our Comments FAQ