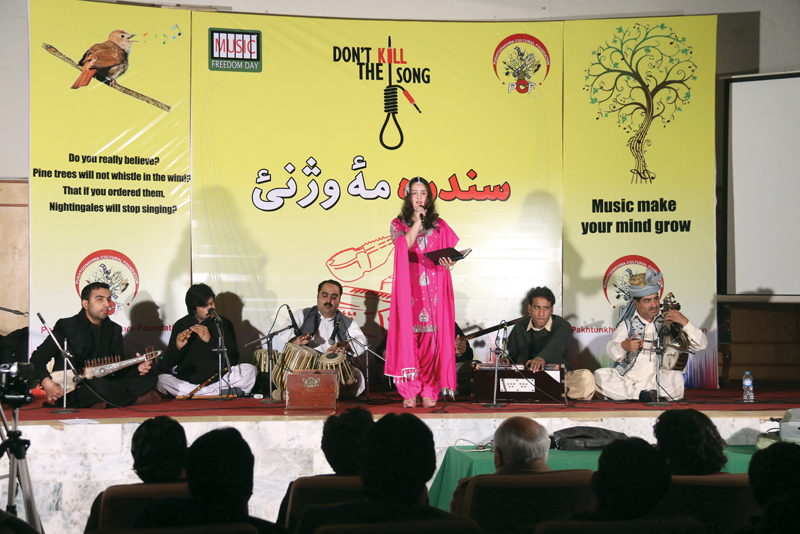 ---
PESHAWAR: The Pakhtunkhwa Cultural Foundation (PCF) organised an event at Archives Library Hall on Tuesday to commemorate World Music Freedom Day, observed every year on March 3.

A large number of musicians performed at the event and a documentary on how militancy and the government's apathy have affected the music industry in the province was also screened. Moreover, musicians discussed the challenges faced by them in the province.

A majority of musicians said it was difficult for the industry to flourish in a country where the art form is frowned upon.

"Every year, we observe World Music Freedom Day on our own," said Karan Khan, a Pashto singer. "We don't need to take permission from the government to honour our good work."

According to Khan, musicians from the province are prepared to support the government in preserving Pashto culture and music.

Speaking on the occasion, Executive Director of PCF Muhammad Rome said the policies introduced by General Ziaul Haq's regime, militant insurgency in Swat and the Muttahida Majlis-e-Amal government in the province negatively impacted the music industry.

In 1985, there were 85 families who were associated with the music industry. However, there are only 40 families left. Moreover, people rarely attend concerts or buy CDs.

"The incumbent government has not only failed to offer patronage to artistes but has yet to introduce a policy on culture," said Rome.

According to musicians, an institution should be set up in Banr in Swat, where many musicians and artistes across the province have been trained.

Mohammad Iqbal, a musician who hails from Swat, said musicians in the past were allowed to pursue their profession without any fear or threats. "We were provided all the protection we needed," he said.

Published in The Express Tribune, March 4th, 2015.
COMMENTS (1)
Comments are moderated and generally will be posted if they are on-topic and not abusive.
For more information, please see our Comments FAQ