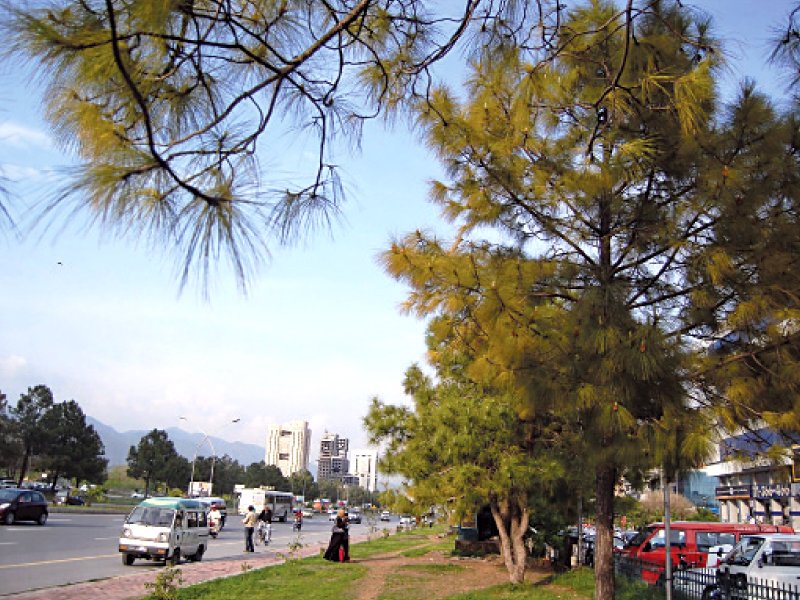 ---
Karachi's green spaces are dwindling at an alarming rate. With zoning violations a common practice, parks are being converted into built land. Even trees and plantations acting as green belts on road medians are giving way to advertising panels.

The once lush green spaces of areas such as Malir are being defiled as unplanned urban sprawl encroaches upon their domain. These days, green spaces, particularly within a dense urban context are providing many benefits other than just aesthetic improvement of the city landscape. A research paper was recently prepared by Rija Yousuf and Shahbano Popalzai, final year students at the department of architecture at the Indus Valley School of Arts and Architecture, focusing on the topic of urban agriculture - how this phenomenon is evolving globally and the potential it holds for promoting such practices in Karachi.

Urban agriculture is described as the green in a concrete-dominated urban sprawl. Quite literally, urban agriculture refers to any agriculture activity, including crop cultivation, livestock and fish farms that take place in an urbanised area.

The research by Rija and Shahbano shows that such green spaces are now helping overcome the unsustainability of our food system and also providing safe and encouraging recreational environments for all age groups besides acting as an adaptation measure against climate change.

There are several ways to produce food in an urban setting. With the help of innovative technological advancements, there are creative solutions for urbanites to grow their own food in however little space available. It can be in the form of a residential garden, a flower garden or a community garden.

Cultivating communal land instead of a privately owned garden in dense cities can have the added advantage of encouraging a deep and positive sense of community bonding.  Besides neighbourhood gardens, other types of ground level gardens may include school gardens, where the educational value of such gardens can also be utilised. In many countries, there has come the concept of relief and therapy gardens. Such spaces have been found to have positive psychological and spiritual effects.

The idea of a green roof is rapidly gaining popularity as a means of improving the urban ecosystems. Green roofs are being used as community green spaces, enhancing the wellbeing and providing aesthetic pleasure to typical rooftops. A green roof can double or sometimes even treble the life of roof material that can grow brittle and crack under the effect of extreme sunlight. Then there are the environmental and energy efficiency benefits. When a green roof soaks sunlight, it can help keep the home's interior cooler by as much as 6-8⁰C.

Rija and Shahbano suggest that neighborhoods can provide a very important starting point for promoting urban agricultural practices in the city. Particularly in neighborhoods where there is less interaction within residents, promotion of such a practice can result in facilitating greater community interaction.

Many empty plots owned by the city government are lying vacant and being utilised as dumping grounds for neighbourhood garbage. If the city government introduces such community gardens and then asks communities to maintain them, it will help bring the community and city government into a healthier contact. In addition, by introducing this topic in the academic curriculum, and by having introduced the concept of learning gardens, children will learn from an earlier age about the importance of sustainability and the need to responsibly handle the earth's resources.

The writer is an urban planner and runs a non-profit organisation based in Karachi focusing on urban sustainability issues

Published in The Express Tribune, March 2nd, 2015.