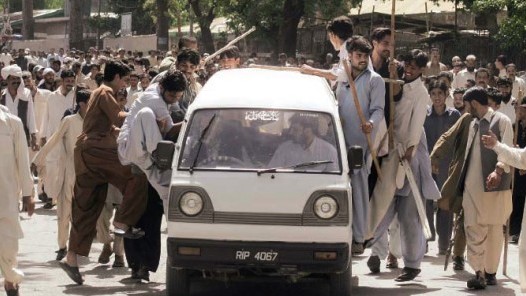 ---
ABBOTABAD: Despite the fact that Khyber Pakhtunkhwa has become the official name of the NWFP after the signing of the 18th constitutional amendment by the President, protests against the renaming continue in Abbottabad and other parts of Hazara with intervals. The leaders of the action committee have now threatened to hold a long march on Islamabad.

The judicial commission constituted by the provincial government headed by Justice Abdul Aziz Kundi has started investigation and recorded statements of more than 40 people. This commission was formed to investigate the April 12 violence incident in Abbottabad in which at least seven people were killed and more than 200 suffered injuries. The four-member ministerial committee constituted by the ANP government to hold talks with representatives of the anti-Khyber-Pakhtunkhwa movement has yet to visit Hazara to hold talks.

The leaders of the action committee for Hazara province headed by former district nazim Abbottabad Sardar Haider Zaman have vowed to continue their struggle for Hazara province. Former Speaker National Assembly Gohar Ayub Khan, former nazim Mansehra Sardar Muhammad Yousaf, former deputy speaker National assembly Sardar Muhammad Yaqoob, former minister for petroleum Ammanullah Khan Jadoon and Dr. Azhar Jadoon were prominent among those holding rallies. Although the provincial government has announced compensation for the victims and injured, exact number of deaths during the violence has yet to be determined.

District Coordination Officer Abbottabad Syed Zaheer ul Islam claimed that five persons were killed during the violence and rejected the media reports that 10 persons were killed. He said that about 100 people were injured in the incident. Interestingly the data provided by both the government hospitals revealed that six people died while 167 sustained injuries while the media reported 10 deaths. Meanwhile, the police had registered a case against some 300 protesters, including some top leaders of the action committee for inciting violence and violating the law but later released all the detained persons.

Newly posted DIG Police Dr Suleman and district coordination officer Syed Zaheer ul Islam has assumed their charges while no action has been taken against the commissioner Hazara and district police officer. The anger and grief amongst the people of Hazara and the otherwise peaceful residents of Abbottabad persists against the police firing incident. The committee has yet to chalk out its future strategy, however it has made it known that it will continue its protests. The PML-N, which always had its stronghold in Hazara, is the ultimate loser in the renaming issue, and none of the party's elected representatives faced the public in their hometowns since April 12, as their diehard supporters are angry with them. The only option left for them to save their skin, according to one analyst, is to resign from their seats en bloc.