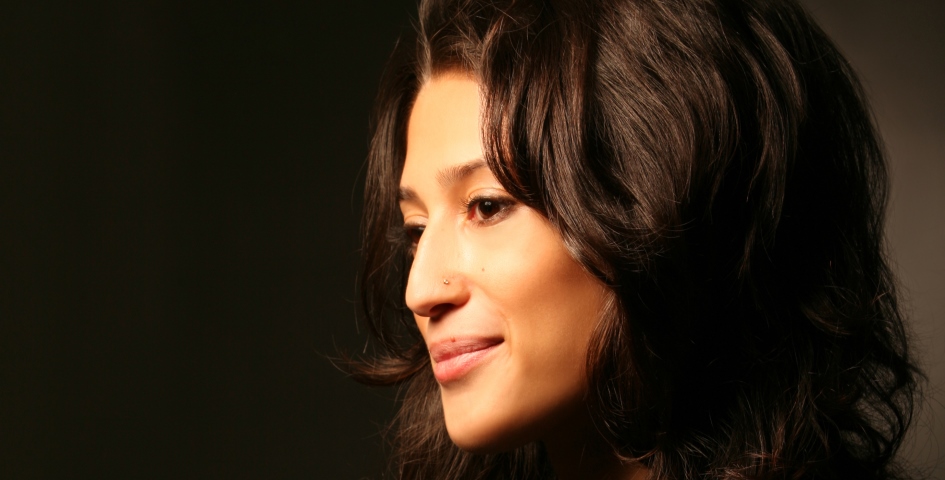 ---


It felt impossible that we would not to talk about politics. On the way to 70 Clifton, I drove past graffiti that pleaded, "Fatima, you are our only hope", and as I walked into the house, I expected to see the faces of generations of Bhuttos looking down at me. Yes, they were all there, but so were some unexpected visitors: dozens of children from nearby Neelum Colony, who come to the house to seek refuge from the streets, do their homework, or join art classes with Fatima's mother Ghinwa.

I decided then that I wouldn't interview Fatima the Bhutto but Fatima the writer: the woman who spent a night in the kitchens of London's storied Delaunay restaurant so she could learn to make croissants, who seemed to have a weak spot for beautiful shoes and who gives all her books away as a rule. It seemed fitting to take the conversation out of 70 Clifton and back online, where we first met. And so, for one week, Fatima and I emailed each other.

Even when I tried to avoid it, discussions of politics inevitably crept into the conversation. After all, Democracy takes the reader back to October 1999, when it took Pakistan's military just 17 hours to overthrow Nawaz Sharif's government.

Much of our conversation was coloured by stories of loss. One day, I told Fatima about a journalist who had covered Operation Clean-Up and the violence in Karachi in the 1990s. "He said there were days when he would drive to Seaview, stand on the shore and scream and scream at the waves. It was the only way he could make sense, the only way he could communicate what he had seen and felt," I wrote to her. "In that case, I wondered, why did he do this job? And you could do anything you wanted to, so why write?" I added. She replied, "Writing is my way of screaming at the waves."




Dear Fatima,

I raced through Democracy. I couldn't put it down. I didn't want the story to end but at the same time I appreciated the brevity; the writing is watertight and the characters fully realised.

Is the short story format tricky for you?

There isn't much fanfare around the release of Democracy; no book parties and perhaps very few interviews. Do you prefer that?

S



Hi Sanam,

Thank you for your note and for these questions, which I never ever get asked.

Yes, let's start.

Short stories are new for me, I've only published three so far but I find them really enjoyable to do as you have to get right to the pulse of the story. Yes it's harder to do, much harder.

We're a country bursting with stories and with this format you can look at such a wide range of things without having to explain too much. A short story doesn't have to be an 'insight' into a place or a people but just a moment or a small observation.

Doing book tours and press is such a strange experience. As a writer you're supposed to sit alone and work, that's what you do. It's solitary work, lonely sometimes, but that's good. You want that. You want to be able to spend your hours in this way, I do at least.

And then when you finish, you have to go out and do interviews and answer questions and explain. It's voyeuristic and it's not always comfortable. But what I do like doing is readings, especially with students. The younger they are the less self-censoring. That said, this is the first interview I'm doing for Democracy (and the first time I'm doing only digital) so I'm not sure what the process will be this time around.

F


Democracy book cover. PHOTO: Fatima Bhutto

Q. Tell me how this story came to be.

A. Democracy started with the idea of the brigadier. He came first and the rest of the story was built around him - the chaos of a coup, the absurdity of a media and a judiciary playing along with the abrogation of a Constitution (which of course they've done plenty of times) and how it is that we all implicitly agree not to talk about it afterwards. But we have to talk about dictatorships and how fully they shadow our history. Democracy is totally absent in this country, it has been during my lifetime certainly, and yet we use the word to excuse all kinds of criminality. So that's where the title came from.

Q. Did you celebrate the book's launch today?

A. I finished writing Democracy maybe a year ago. But I was working on it till two weeks before Penguin released it. I kept going back and looking at it and changing things around. I think most writers are like this, no? I'm suspicious of people who don't do as many drafts as possible.

I got my copy of Democracy this morning, which was nice. We were discussing the cover till yesterday morning so it really was new to me. But otherwise it was a normal day. I spent the afternoon with my dogs and my brother who has a science test and dragged me into helping him study for it.




Q. It seems as though writing feels so normal to you, so ordinary, that it is odd to talk about it. Did you always want to be a writer or did you come upon this craft because it enables you to do something you want? Is being of service important, particularly when you have such great privilege?

A. I always loved words and stories. Growing up it was journalists and writers who were my heroes. There was a lot of movement when I was small, a lot of uncertainty and worry. We were in exile, which I was reminded of constantly by my father's homesickness for Pakistan. "Don't get used to it here, this isn't your home, your home is Karachi," he would say. But then of course we couldn't be at home. And there was this violence that was always close behind because of my grandfather and uncle's murders.


Fatima and her father in Damascus. PHOTO: Fatima Bhutto

My father loved to read and he passed that on to me and from the start it was a space that was always peaceful for me. I loved books and then as soon as I could write I knew that's what I wanted to do. It was a space where I could, unlike in life, move freely. I am quieter about it because I don't quite understand it. It's, as you said, something that I've always felt and wanted to know more about but the discovery is so personal in many ways I wouldn't know how to articulate it.


A picture from Benazir Bhutto's autobiography Daughter of the East shows Murtaza and Shahnawaz Bhutto

I know very much what you mean about being 'of service' because writing is a service. It's a record; it's reckoning and bearing witness. For me, a writer has only one duty: to convey truth. Any writer with a fidelity to that principle is contributing to their community, to their environment.




Q. But are there days when you feel this job of writing and recording doesn't mean nearly enough? For instance, the day the Army Public School was attacked in Peshawar.

A. Peshawar was a brutal shock to the spirit. In a country that constantly devours its own, this almost anaesthetises you to violence because it's so present and so constant. Peshawar was so cruel and so unfathomable.

I cried for a week. I cried because I couldn't imagine such a thing could happen in my country. And when it did, I could not understand how we would recover from it. Writing doesn't soothe that kind of pain or confusion but it connects us to others who, at that moment, feel the same grief. And that is something.

Writing has always helped me understand what I feel, it's helped me when I've been lost or scared. But I don't think of it as control because writing for me is the opposite function – it's freedom.




Q. I read this earlier today:

Interviewer: Where do you get your ideas?

Arthur Miller: I wish I knew; I'd go there more often.

Where do you go for inspiration?

A. That's a great line!

Inspiration comes from travelling, seeing new things, reading far and wide and observing things around us. When I went to Iran, every encounter was inspiring because it was all unknown to me. At other times I'll be in the car on a street I've driven down a hundred times and something catches my eye for the first time and I'm struck. Was this always here or have I missed it all this time?

I was at Seaview the other day in the evening and these men were pulling nets out of the sea, walking barefoot on the sand and rifling through the fish they had literally just dragged out of the shallow water. There were no boats, just these young men. I was standing there with my brother and I noticed these small boys, ten or twelve year olds, picking up all the small fish the fishermen had no use for and flicking them into the sea. I'm sure this happens every day, but I stood there at that moment and wondered how long I had missed it for.




Q. I was speaking with a friend about Democracy, and her first response was: Why does Fatima Bhutto always write about the terrible parts of Pakistan?

A. I leave it to the supporters of the state to write positive stories.

Q. But that is a complaint that comes up routinely with anyone who presents their work outside of Pakistan. Writers, filmmakers and activists are asked why they don't put Pakistan's 'best face' forward. It does sometimes frustrate me that Pakistanis are usually represented by the polar opposites in their nature – it's either the literary festivals and fashionistas or the Taliban. Have you ever felt that these are the narratives that sell the best?

A. As a writer, filmmaker or an artist it's your duty to write/paint/film what needs to be said – what is urgent, what is buried, what is hidden, what is unsaid. In my mind that has nothing to do with sales or audience but with observation and truth.






I'm not an apologist. I point out what disturbs me and let the regime point out what it does well. About putting one's best face forward, I think its hypocritical to smile when what you see in your country on an daily basis is unjust, unfair and, too often, brutal.




Q. Does your surname ever feel like something you are bound to? It is the frame of reference used to talk about what you do. Do you wish it were not so?

A. My name or my family doesn't bind me more than anyone else's binds them.  We belong not only to our presents but to our pasts and carry so much of our ancestors. As a people we live very connected lives with our families, friends and each other.


Fatima and her mother in Damascus. PHOTO: Fatima Bhutto

I was raised to believe that what I do that matters, not who I am. I was lucky to grow up in Damascus where my name didn't mean what it does here so I enjoyed a good part of my life not feeling that the name was how people judged me.

My brother Zulfikar and I chose different paths than I think many expected of us but there's no doubt in our minds that what we do is political. This is just our way of expressing it.




Q. But you are asked to speak of your family and your father in almost all the interviews you do. Doesn't it feel intrusive? Or do you get used to this and see these interviews as moments of remembrance?

A. My father and I were soul mates. He was and always will be my reason for living.

It took me years to see that nothing happens to him so long as I am here, as long as Zulfi is here. Next year it will be 20 years since he was murdered but now, more than ever, I see him everywhere.

When I was touring with Songs of Blood and Sword it was very important for me to speak about his killing, and for years before that, even though it was difficult. When I speak of him now, I talk about his life, who he was and what he was like, and nothing could make me happier.




Q. But how do you not get angry?

A. The truth is Sanam, I was angry for a long time. I had not only lost my father but he was killed in front of us. We were inside the house that night and could do nothing while he was lying on the street bleeding to death, which the police made sure of.

All the senior officers present that night were never held accountable for the lives of the seven men they assassinated. They were promoted once, twice and many times. They continue today to serve at the highest level of state.

I was deeply angry for a long time. But the men who killed my father acted out of anger and I don't want any of their poison. I don't want to carry what they did. My mother always told us that we wouldn't let the violence follow us any longer because we would live without anger and hate. Almost 20 years later we have received no justice for my father's murder. I am still very sad about that but who receives justice in this country?

But to go back to anger, when I understood that those whom you love never leave you - they remain, they return - and no one had the power to take away what I love and believe in, my perspective on anger shifted. But that took years.

Q. Did you feel at any point that people simply expected you would write what you know? Do they only want to hear the gossipy family stories?

A. I don't think people expected I would keep writing, actually.




Sanam Maher is a senior subeditor at The Express Tribune magazine desk. She tweets @SanamMKhi
Published in The Express Tribune, Sunday Magazine, March 1st,  2015.