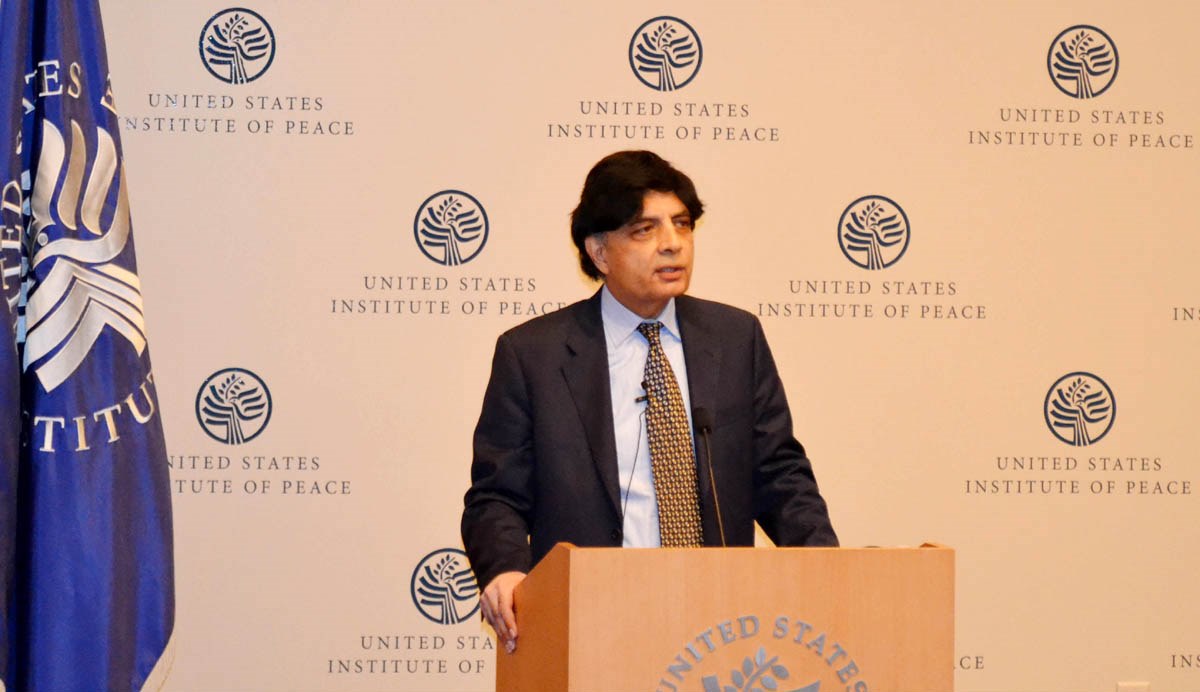 ---
WASHINGTON: Just like the 9/11 attack  on the World Trade Centre for the United States, Interior Minister Chaudhry Nisar said on Wednesday that the December 16 attack on the army-run school in Peshawar acted as a catalyst in bringing a sea-change in the mind-set of Pakistanis in their fight against terrorism.

"One single incident…has managed to nudge the people of Pakistan, civil society, media, and civil-military leadership to come out on one platform and workout the agenda to eliminate these criminals," said Nisar while speaking at the United States Institute of Peace in Washington on Thursday.

The Peshawar incident, Nisar said, changed the outlook of even those groups and individuals who earlier looked at the military option with a lot of suspicion.

"…Especially the parties who have a religious background were more inclined towards the need of dialogue…but a consensus was evolved that we must avenge [the killings of] those little angels."

The interior minister argued that never in its history has Pakistan been as focused as it is now on the job at hand, which is to eliminate terrorism.

"Unity has emerged across the length and breadth of this country," he said. "There has never been this kind of unity [in Pakistan] in the last 13 years."

However, voicing his apprehension, Nisar said that this will be no easy task. He said since the launch of the military offensive against the Taliban in North Waziristan in June 2014, there was pressure on the terrorists, which is why they were attacking schools, places of worship and even marketplaces.

"Their headquarters have been destroyed, and now they're going for the worst option…," he said. "Options for us are difficult...we have to keep our normal life flowing."

Responding to a question on sectarian attacks, particularly about banned organisations allegedly involved in targeting minorities, Nisar said the problem had existed for the last 30 years at least, and that it will take the government time to tackle it.

"We will have to work over time to address the sectarian problem. It is a very difficult process."

He laid emphasis on better communication between the different religious groups, as well as reforming seminaries.

"…We convened a meeting of all the religious segments, and were able to workout an agreement on madrassa reforms," said Nisar. "This includes auditing of funds, registration, transparency of curriculum, and a whole lot of other things."

He said the sectarian problem has to be addressed within the country, and that "there is no outside factor or force which could resolve (it)".

However, he termed the recent upsurge in attacks a blowback from the ongoing military offensive.

"These acts are terror-related. Lashkar-e-Jhangvi (LeJ) is unofficially a part of the Tehreek-e-Taliban Pakistan," he added. "Their activity has been limited, and they are exploiting the sectarian divide, and hitting soft targets."

No exact data on banned outfits

The interior minister admitted that they did not have complete data on banned or proscribed organisations such as Jamaat-ud-Dawa (JuD) and Lashkar-e-Taiba (LeT), which often operate under new names, adding that this had made action against such groups difficult.

"I am embarrassed to give you feedback on this…there have been very vague polices on these and other issues," he said, adding that there was no tangible record on the exact number of proscribed organisations operating in the country.

"…It is a difficult area…we are now treating every banned outfit…Anybody picking up arms must be disciplined, brought to [the] book…".

"The commitment is to treat everybody alike, and there will be improvement in this area, sooner rather than later."

No presence of Islamic State in Pakistan

About the Islamic State (IS) group, the interior minister argued that currently it has no presence in South Asia, particularly Pakistan, and is primarily an organisation based in the Middle East.

"As of now, I can say with confidence that the ISIS only exists in the Middle East," he said. "It absolutely has no presence in Afghanistan and Pakistan."

He said that the terrorist space in South Asia was totally occupied; however, if the issues were not addressed, a grand alliance between different groups could not be ruled out in the future.

Nisar added that 13 years of sacrifice and efforts against terrorism should not be in vain – a mistake previously committed by the US after ending the Soviet war in the 1990s.

"It is important for us to learn from our mistakes and from our history."

He also spoke on the relationship between Afghanistan and Pakistan, saying relations between both the countries have never been better historically.

NAP vs NISP

Responding to a question that why a National Action Plan (NAP) was implemented against extremism and terrorism in the country when the National Internal Security Policy (NISP) was already in place, the interior minister said the NISP is the organisational, strategic policy paper announced a year ago to counter terrorism, whereas NAP is a more proactive part of the state's fight against militancy.

Speaking about the National Counter Terrorism Authority (NACTA) and its role in Pakistan's anti-terrorism efforts, Nisar said the Ministry of Interior was preparing a framework to make it work as an independent body, which required time.
COMMENTS (6)
Comments are moderated and generally will be posted if they are on-topic and not abusive.
For more information, please see our Comments FAQ