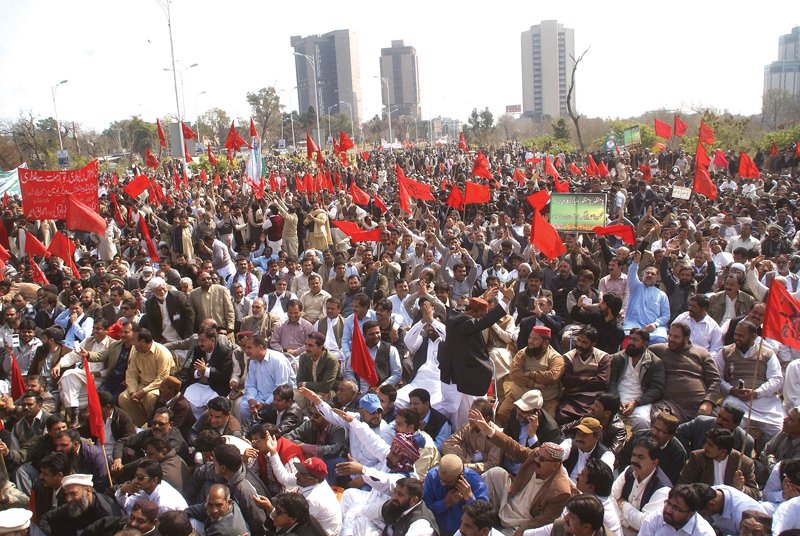 ---
ISLAMABAD: Hundreds of Water and Power Development Authority (WAPDA) workers held a demonstration in front of National Press Club (NPC) on Wednesday against the government's proposed plan to privatise the body.

Leader of the opposition in the National Assembly Khurshid Shah, representatives and activists of Awami Workers Party, labour union leaders and Wapda employees from all four provinces were at the protest.

Carrying flags and banners inscribed with anti-privatisation slogans, participants of the rally later marched from NPC to Aabpara Chowk, where the rally culminated peacefully.

Besides assuring the participants that issue would be taken up at floor of parliament, Shah said the Pakistan Peoples' Party was against privatisation of state entities and fully endorses the stance of WAPDA workers and "would continue supporting their just struggle".

Addressing the gathering, various office bearers of Wapda unions came down hard on the federal government for its proposed privatisation plan, dubbing it a move to usurp the rights of workers.

Veteran trade unionist Khurshid Ahmed said it is the state's responsibility to provide basic utilities to the public, including electricity.

Wapda Union President Abdul Latif Nizamani claimed privatisation would be against the constitution and also the declaration of the father of the nation, who had declared that basic facilities would be provided by the state.

Other speakers called upon the government to develop cheaper sources of electricity such as hydel, gas and coal, instead of relying on costly furnace oil-based private thermal power houses and to "recover $200 billion deposited by feudal lords and politicians in Swiss banks".

They demanded that the government should introduce far-reaching reforms to raise the efficiency of electricity utilities instead of handing them over to private boards of directors who had no interest.

They also demanded that the prime minister should hold a dialogue with the union and discuss the issues in the National Assembly and Senate.

Published in The Express Tribune, February 19th, 2015.
COMMENTS
Comments are moderated and generally will be posted if they are on-topic and not abusive.
For more information, please see our Comments FAQ