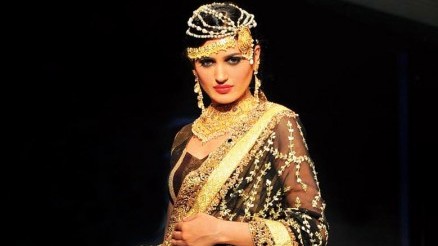 ---
KARACHI: For Pakistani women, gold signifies social security and is a status symbol. However increasing prices of gold mean many women can no longer afford to buy it. Women have passed down gold jewellery to their daughters and granddaughters for decades, but as the style of gold jewellery has changed, so has the price. In just a few years the price of gold has increased more than three fold.

The cost of one tola (approximately 11.6 grams) has increased from Rs10,000 to Rs35,950. Jeweller Sajjad Ahmed told Express News, "The price of gold has increased drastically in the past few years which has decreased the demand. But despite the price hike, women still believe owning gold is important." Due to the increase in the price of gold, jewellers have started producing gold plated jewellery and in the last few years there has been an increase in demand for gold plated jewellery.

The obvious reason is that gold plated jewellery is much cheaper than real gold, and the designs are just as beautiful. Along with the price of gold, the prices of stones and pearls have also increased which has made women that would ordinarily buy real gold turn to artificial jewellery. Abu Rouhan is one such jeweller who started working with silver in 1996, his mission being 'To produce the brilliant alternate of gold and diamond jewellery in silver'. Rouhan told The Express Tribune that silver jewellery is more difficult to manufacture than gold and jewellers have to work extra hard to ensure that the design and workmanship of a set is exquisite.

This is because gold has a value of its own whereas silver is not considered precious. Rouhan said that people in Pakistan as well as Pakistani's living abroad are now wearing silver as an alternative to gold for everyday as well as for formal occasions and as part of bridal jewellery. The amount of money being saved is remarkable. "The saving comes in on the cost of the metal," Rouhan said. "Gold costs Rs36,000 per tola or Rs30,000 for 10 grams while silver costs Rs450 per 10 grams. So while the workmanship and stones will cost the same, customers end up saving more than Rs35,000 per tola." Additionally, depending on an individual's budget precious or semi precious stones might be used; Rouhan recently made a bridal set in silver and zircon for Rs74,000. Its estimated price in gold and diamonds was Rs14,500,000. But even though silver is currently a cheaper alternative, it may not remain so. The increase in the price of gold and the increase in the demand for artificial jewellery have caused the price of gold plated jewellery to rise.

Khurram, a jeweller who specialises in gold plated jewellery, told Express News, "Gold plated jewellery is essentially silver jewellery which has been dipped in gold water; a price of a gold plated necklace can vary from Rs15,000 to Rs50,000." One expects that at this rate gold plated jewellery will also become an unaffordable item and will be replaced with silver jewellery. Given the rising cost of living in Pakistan, perhaps stocking up on every alternative metal would be a good idea for those looking to hoard jewellery for the future.
COMMENTS (1)
Comments are moderated and generally will be posted if they are on-topic and not abusive.
For more information, please see our Comments FAQ