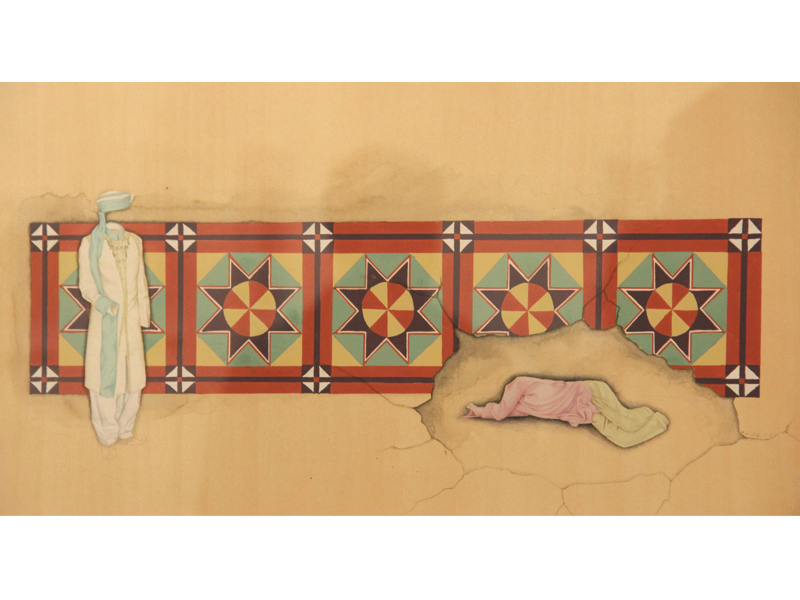 ---
LAHORE:



Droves of people flocked to see a degree show featuring the work of 12 students from the miniature department of the National College of Arts (NCA) on Tuesday.




Qutub Ali, one of the artists, told The Express Tribune that his work incorporated aspects of truck art and the practice of ornamenting weapons in Baloch tribes.  "I hail from Jacobabad but I belong to a Baloch tribe. Great importance is attached to weapons in these tribes as they are regarded as jewellery for men," he said. Ali said this could be viewed in a positive and negative manner in the context of an environment peculiar to an area.

He said weapons were ornamented with items like flowers and pearls.

Ali said weapons were beautified in such a manner that the aspect of violence inherent to them ceased to be significant. He said he had combined pearls used to embellish weapons and champakpati inspired by truck art to create the pieces.

Syed Hussain, a Hazara from Quetta, said his work was premised on the construction of identity and its hazards. Hussain said Hazaras, who constitute a minority in Quetta, had features similar to people from China and Mongolia. He said this made them conspicuous. He said the subjects in his paintings were seen wearing helmets. Hussain said he had painted helmets to connote protection and anonymity. "The conspicuous features of Hazaras constitute the greatest problem bedeviling the community," he said. Maidah Khan, another artist from Lahore, said her work was based on mixing different materials and using different mediums and techniques. "I converted the technique of miniature by using materials differently," she said. Khan said she had transformed these to abstract impressionism by doing this. She said the idea had come to her after she had experimented on over a 100 pieces.




Muhammad Sulaman, another artist from Lahore, said he had attempted to depict the relationship between man and attire in his work.

"Every person has a distinct persona. I have tried to explore different aspects of clothing and tried to create a dialogue based on how clothes were perceived and their reality," Sulaman said. He said he believed that though clothing was a need its value had become exaggerated over time in relation to that of human emotions. "All one notices now is how another is dressed. The reason behind this is that people judge others on how they dress," Sulaman said.

Moattar Zafar, an artist from Gujranwala, said her work was about freedom and limitation. She said her work was a commentary on the feelings of an emancipated person and of those bereft of the freedom of choice and action.


"I have played with all kinds of patterns in the paintings. I began with the Islamic geometric patterns and started looking into patterns in the sky like galaxies and constellations later," Zafar said. She said she had fused the patterns together to create various combinations to work with.


Published in The Express Tribune, February 18th, 2015.
COMMENTS
Comments are moderated and generally will be posted if they are on-topic and not abusive.
For more information, please see our Comments FAQ