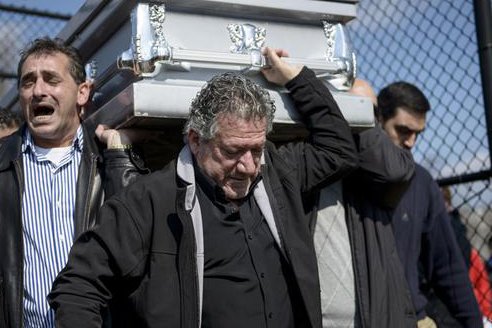 ---
Thousands turned out to attend the funeral of the three Chapel Hill victims on Thursday, the BBC reported. 

Police said as many as 5,500 people attended the funeral held at the athletic grounds of the university where the victims studied.

Family, friends and classmates of the three victims bid an emotional goodbye to the Muslim students who were shot this week at their home in Chapel Hill.

Deah Shaddy Barakat, 23, his wife Yusor Mohammad, 21, and her 19-year-old sister Razan Mohammad Abu-Salha were shot to death Tuesday by a neighbor in what police said was being investigated as a parking dispute. The father of the two sisters has said that the killer had shot them "execution style" and reiterated that it was a hate crime.

At the university, dozens of people carried the funerals the victims to an Islamic cemetery outside Raleigh.

The night before hundreds more had turned up at the University of North Carolina to hold a candlelight vigil for the victims.

Farris Barakat, Deah's brother spoke before a tearful crowd in the university town and said "do not fight fire with fire… it is quite possible that this was an act based off of evil and a scared ignorant man, do not let ignorance propagate in your life, do not reply ignorance with ignorance."

[/fbvideo]

North Carolina Muslims call for calm after students murder

Muslim leaders called for calm  after three students were killed by a gunman with anti-religious views.

"This is definitely a hate crime, it's all over his Facebook that he's atheist and hates Christians and hates Muslims," said Sarah Alhorani, a former student at University of North Carolina where Barakat was a second year dentistry student.

"To be honest, it makes me more scared because I have two babies, so I don't even want to imagine," she said.

Some Muslim leaders said the shooting was a reflection of wider anti-Muslim hostility, and warned it could sow fear among Muslim Americans.

"Already it is stoking fears. I've received dozens of phone calls in just the short period of time," Nihad Awad, director of the Council on American-Islamic Relations told AFP.

"People are very concerned about what happened they feel that this is a premeditated hate crime," he said.

Chapel Hill Police lieutenant Joshua Mecimore said Thursday the incident still appeared to have been provoked by "an ongoing parking dispute between neighbors," but said all possible motives were being investigated.

Barakat's sister urged authorities to investigate the execution-style killing as targeted attack.

"We ask that the authorities investigate these senseless and horrendous murders as a hate crime," Suzanne Barakat told reporters.

Meanwhile, Muslims in North Carolina urged restraint, calling for peace in the tight-knit university town.

"It's time to mourn but its also time to call for harmony and peace," the head of the Islamic Association in neighboring Raleigh, Mohamed Elgamal, told AFP.

He said the killing should be treated as not "a Muslim issue, this is an American issue," and said despite discrimination, Muslims across the United State should stand together.

"There are some fears but not to the degree that we really are going to change our way of life because if we do then we let those killers win, so we really have to be better than them," he said, in the Muslim center where the three victims are set to be buried later Thursday.

"We still believe in peaceful and harmonious relationship in our community with Muslims and non Muslims, it does not matter," he said.

There are 65,000 Muslims in North Carolina, which has a population of 9.9 million, and the majority live in the Chapel Hill area.