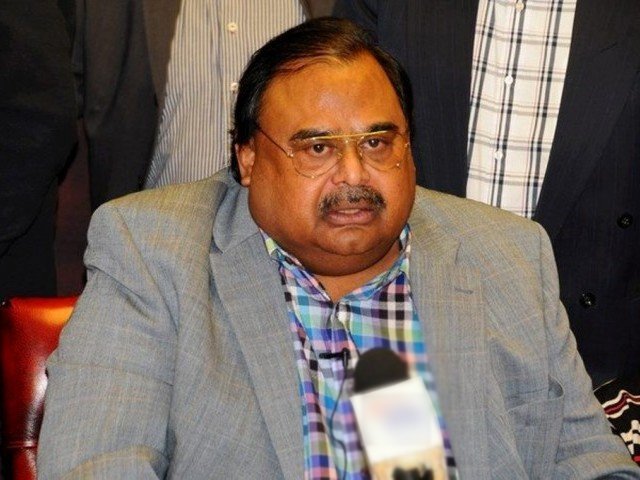 ---
KARACHI:



A political firestorm fuelled by a bout of recriminations from the leaders of the Muttahida Qaumi Movement (MQM) and the Pakistan Tehreek-e-Insaf (PTI) seemed to dull Tuesday evening when MQM chief Altaf Hussain apologised to PTI leader Dr Shireen Mazari for his controversial comments. Mazari later accepted the apology.




In a live television interview Tuesday night, Altaf said he apologised if his words offended anyone. "Shireen Mazari, I am sorry," said the MQM chief.

On Saturday, the MQM chief lashed out at Dr Mazari and the PTI's band of female workers – remarks which triggered a severe reaction from PTI chairman Imran Khan.




According to a press statement issued by the MQM, Altaf also called MQM leader Rauf Siddiqui and said he was sad over the speeches of a few MQM leaders who used inappropriate language against PTI leader Imran Khan at Tuesday's rally.

Altaf also announced that his party would welcome Imran whenever he visited Karachi.

In another statement, the MQM chief also apologised to the officials of law- enforcement agencies for using harsh words in his speeches a few days ago. He said he knew his statements had hurt the sentiments of the officials but he did not really mean to hurt anyone. "I always respected national institutions and still do," he said.

In a related development, the MQM staged a huge 'Love Altaf' rally in Karachi to express solidarity with their party chief after Imran called upon the MQM to dissociate itself from its self-exiled leader.

A large number of MQM workers and supporters gathered at the Aisha Manzil neighbourhood of the city and later passing through the major thoroughfares reached Sharea Quaideen, where the leaders delivered speeches. Female workers wore bandanas inscribed with 'I am Altaf' while men held party flags.

Speaking at the rally, MQM Rabita Committee joint in-charge Khalid Maqbool Siddiqui said no campaign or movement could separate the MQM from Altaf Hussain. "Terrorists and their supporters should be presented before the military courts," he said.

MQM leader Rauf Siddiqui said the party chief did not say anything about the PTI's female workers that had not been reported in the media.

Dr Farooq Sattar said the rally was an answer to the PTI's 'uncouth statements'. "If Imran Khan is coming to Karachi, the MQM challenges him to compare his character with that of Altaf Hussain," he said.

"The Taliban ran Imran Khan's election campaign and kept the MQM, ANP [Awami National Party], and PPP [Pakistan Peoples Party] away from their campaigns," he said. Sattar also censured Imran for his failure in spite of his repeated attempts to lodge complaints against Altaf in London.

Published in The Express Tribune, February 11th, 2015.
COMMENTS (1)
Comments are moderated and generally will be posted if they are on-topic and not abusive.
For more information, please see our Comments FAQ