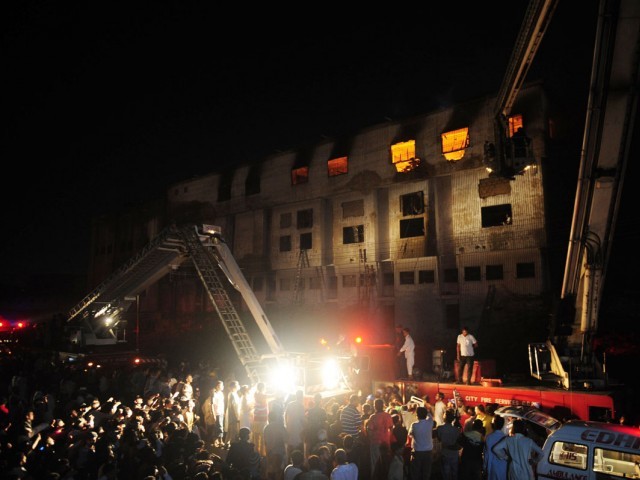 ---
PESHAWAR:



Jamaat-e-Islami (JI) Amir Sirajul Haq said the 21st Amendment would lose its impact if the federal government failed to punish the culprits held responsible by a joint investigation team (JIT) for Karachi's Baldia factory fire.




The tragic fire in a garment factory of the port city killed over 250 people and left scores of others injured in 2012. Some of the bodies were burnt beyond recognition and DNA tests had to be conducted to determine their identities. A number of them remain unidentified.




Talking to the media during Guest Hour at Peshawar Press Club on Tuesday, the JI chief urged the government to withstand all pressure and not allow the report to go into 'cold storage'. He said the report would test the federal government's ability to respond to such crucial findings, adding lack of action would render the 21st Constitutional Amendment ineffective.

Haq said it was not some media report or political statement that named the culprits, but a JIT carried out by six official agencies. He urged Sindh's ruling Pakistan Peoples Party to steer clear of the Muttahida Qaumi Movement till the JIT reached its final conclusion.

"If justice is not delivered in light of the JIT report and the culprits not booked, it means punishment is only for the underprivileged and not influential individuals who burn lawyers in their chambers and kill people on the roads," the JI amir said, referring to various criminal incidents in Karachi.

Haq said JI supported all steps to eliminate terrorism and attacks should not be linked to religion. He added the nation is looking to the capital and asking the federal government not to fall prey to the "politics of reconciliation".

He said,"We demand effective action against all those involved in terror activities regardless of whether they come from religious seminaries or private and public colleges."

Talking points

Talking about the proposed changes to the Gwadar-Kashgar route, Haq said any change of such an important economic corridor should be made by taking all stakeholders on board.

He told the media that petroleum prices had been reduced on an international level and even in Pakistan, but the prices of daily commodities were still sky high.

Haq suggested the government focus on tribal areas and establish colleges and universities to educate tribesmen and change their fortunes.

He also requested the Sindh and Punjab chief ministers to take notice of police harassment of Pukhtuns in their provinces. The JI amir asserted criminals should be arrested, but innocent people should not be bothered.

Talking about his possible nomination for a Senate seat, Haq said the central parliamentary board of the party would make the final decision. He also said Pakistan Tehreek-e-Insaf was working towards development in the province and all things would be done on merit as there was an ongoing crackdown against malpractice.

Published in The Express Tribune, February 11th, 2015.
COMMENTS
Comments are moderated and generally will be posted if they are on-topic and not abusive.
For more information, please see our Comments FAQ