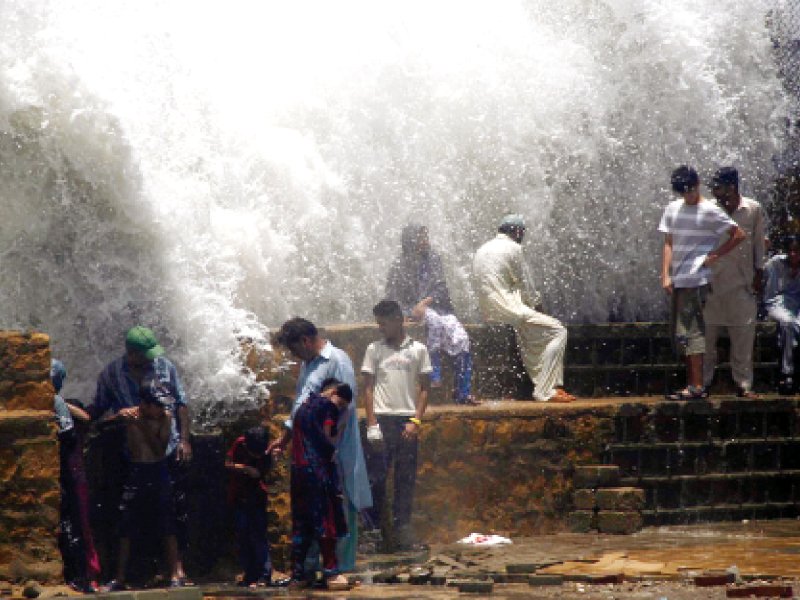 ---
ISLAMABAD:



A top oceanographer issued an eerie warning on Monday about the possible submerging of Karachi and other coastal districts into the sea by 2060, counting the potential damage that environmental changes could inflict on the country.




"Some parts of Karachi's Malir area have already gone under water while Sindh's Thatta and Badin districts will also sink into the water by 2050," Dr Asif Inam, director general of the National Institute of Oceanography (NIO), told a parliamentary panel.




Dr Inam was briefing the Senate Standing Committee on Science and Technology, headed by Professor Sajjid Mir. The meeting was called to discuss the escalating threat of sea intrusion along the coasts of Balochistan and Sindh, as well as the post and pre-partition status of islands.

"During the last 35 years, almost two kilometres of coastline near Sindh and Balochistan has submerged into the sea as well as 200,000 acres of land in Sindh," he said.

Senate panel members were told that the United Nations Environment Programme and its programme on regional oceans in 1989 had included Pakistan in the list of the countries that could be affected due to rising sea levels.

He cited "abrupt environmental changes, severity in monsoon and increased flooding" as prime causes of soil erosion and change in coastline near Badin and Thatta. "This abrupt change has disturbed the oceanic lifecycle for which data from many areas is unavailable," he added.

Commenting on the emerging threat, Science and Technology Secretary Kamran Ali Qureshi said it was an issue of grave significance.

Speaking before the panel, Sindh University's Professor Sarfraz Hussain Solangi discussed the issues of global warming, climate change and its impact on people.




"We have to prepare for climate change as the temperature of Karachi will rise by three degrees and northern areas are to witness five degrees increase in temperature," he said.

Similarly, he said, as the country's water table is turning more brackish in certain areas, he said, "we should undertake a comprehensive study and research to sort this out".

An official at Balochistan's Coastal Development Authority also expressed similar fears and said
water in some areas of Balochistan had also become salty and brackish.

Solangi also shared World Wildlife Federation's report which stated that one kilometre area along the 770 kilometre coastline had already gone under the sea. "There is a need to counter these threats on a war footing. We should ban the cutting of mangroves trees," he added.

Senator Taj Haider shared the Sindh government initiative to build a 220 kilometre, four-lane road along the coastline to stop land erosion. "However, for this purpose, we also need 50 per cent financial assistance from the federal government," he said.

Given the gravity of the situation, Senator Dr Karim Ahmed Khawaja proposed that the Council of Common Interests take up the issue as well. "In this regard a
letter should be written to the prime minister to formulate a comprehensive plan
to deal with the emerging crisis," he said.

Published in The Express Tribune, February 10th, 2015.
COMMENTS (7)
Comments are moderated and generally will be posted if they are on-topic and not abusive.
For more information, please see our Comments FAQ