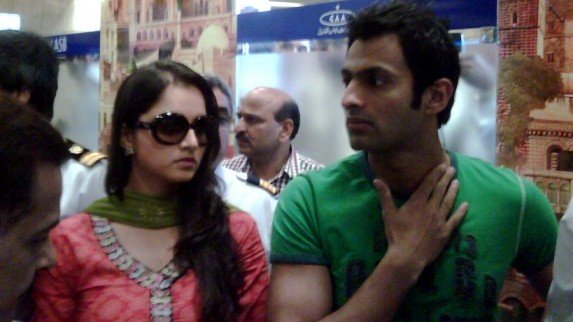 ---
KARACHI: Shoaib Malik and Sania Mirza arrived in Islamabad on Thursday night as 'state guests' of Pakistan, although a dinner with prime minister Yousaf Raza Gilani that was to be scheduled in their honour has been postponed.

Earlier, Shoaib and Sania were received by Adviser to Sindh Chief Minister Rashid Rabbani and Provincial Sports Minister Mohammad Ali Shah at Karachi Airport. They were also presented traditional gifts of a Sindhi cap and Ajrak.

A reception was also arranged for Shoaib and Sania at the office of the deputy director of Federal Investigation Agency.

Later, speaking to the media, Sania Mirza said she was honoured to have such a reception on her arrival in Karachi.

Meanwhile, security measures have been completed in Lahore with regard to their valima.

About a thousand police officials will be deployed to ensure that the event takes place smoothly. The couple is scheduled to arrive in Karachi today and they will reach Lahore on the 23rd of April.

The Mall Road will be closed when Shoaib and Sania's valima will take place. While the Davis Road and the Sundar Das Road will be utilized as parking areas. Only the close relatives of the bride and the groom will be allowed to park inside the hotel's parking area.

SP Civil Lines Haider Ashraf said while speaking about the arrangements for the function, that upto 800 guests are expected to be present at the ceremony. The strict policy of one dish will also be implemented.