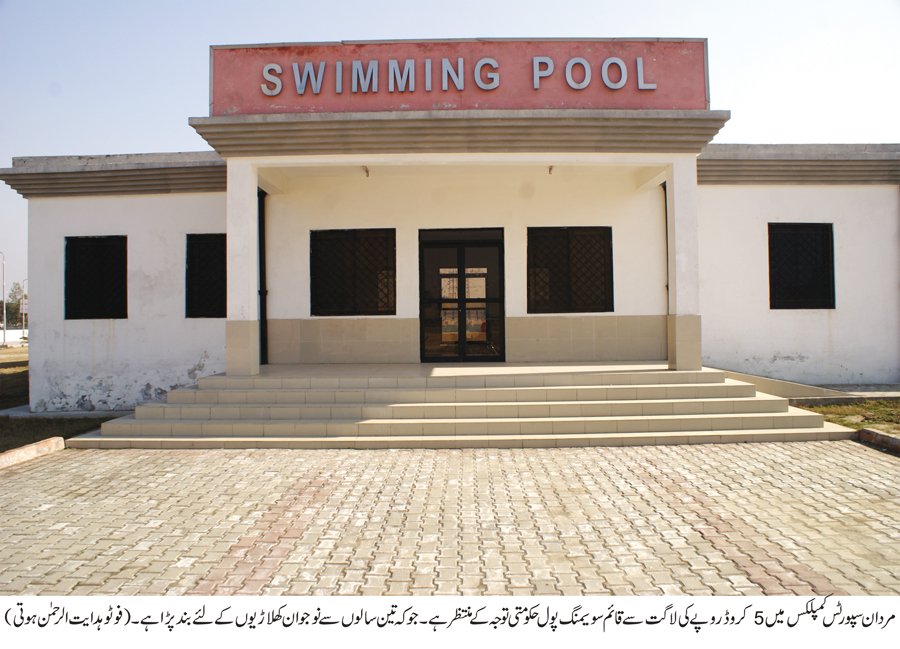 ---
MARDAN:



Built at a staggering cost of Rs50 million and inaugurated back in 2011, a swimming facility at Mardan Sports Complex has yet to allow a swimmer to plunge in it.




Swimming enthusiasts of Mardan asked the then Awami National Party-led provincial government to construct a swimming pool in the district. The government then decided to construct a pool at Mardan Sports Complex. However, four years have passed and the facility has thus far failed to open its doors for swimmers. Locals consider the closure of the pool as a failure on the part of the Mardan sports directorate.

Two locals, Owais Liaqat and Qaisar Khan, told The Express Tribune they love to swim, but lack of opportunities and facilities has left them in a quandary. Nonetheless, they remain undeterred and have won several swimming competitions in various areas of Khyber-Pakhtunkhwa.

Both said they wanted to represent the province and ultimately their country on an international level. They said it was not as if Mardan was a small town, adding it is one of the biggest cities in the province; yet, there are no facilities for swimmers.

Owais and Qaisar said they only had the option of swimming in rivers and streams of the district. They asked the government to open the facility as soon as possible and save talent such as theirs from being wasted.

Mardan Director Sports Munawar Khan claimed the pool will open by April this year. He added the delay was because there was no shutter over the swimming pool. Khan said this would mean rainwater would remain standing in the pool as drainage and cleaning arrangements were inadequate. He maintained the problems faced by swimmers in the region were being considered, adding that a proposal was also sent to the provincial government to address the issue.

Munawar Khan hoped the facility will be able to open its doors to the public as scheduled so locals can benefit from its pool. He also reiterated a functioning pool will save the district's swimming talent from being wasted.

Locals, on the other hand, voiced reservations, saying the Pakistan Tehreek-e-Insaf government had made tall claims over the establishment of playgrounds in the province, but failed to keep existing sports facilities running.

PTI MPA Iftikhar Mashwani told The Express Tribune the gov ernment realises the restrictions faced by sportsmen and is taking strong initiatives in this regard. Mashwani added the K-P Ministry for Sports received a PC-I regarding the swimming pool's issues and would soon release a grant of Rs90 million to resolve the problems and open the facility.

Published in The Express Tribune, February 5th, 2015.