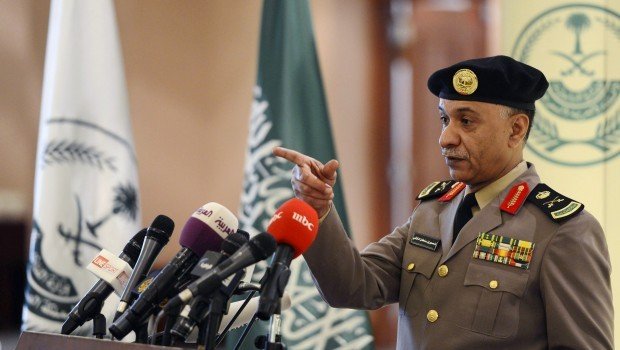 ---
Days after the Islamic State (IS) executed Japanese journalist Kenji Goto and criticism arose in the near identical manner in which the militant group and the Saudi Arabia carry out capital punishments, a top official for the Arabian kingdom defended its justice system.

The Saudi official claimed executions and beheadings it carries out can not be compared with those committed by IS, since the death penalty awarded in the kingdom is based on a court decision.

In an interview with NBC News, Interior Ministry spokesperson Major General Mansour alTurki said the executions carried out by IS are 'arbitrary.'

Middle East Eye, a website that focuses on news from the region, compared legal punishments recently announced by the Islamic State with the punishments for corresponding crimes in Saudi Arabia.


RELATED POST: Punisher-in-chiefs: How different are ISIS and Saudi Arabia really?


However, the spokesperson defended Saudi Arabia's punishments.

"ISIS has no legitimate way to decide to decide to kill people," he said, adding, "the difference is clear."

"When you kill somebody without legitimate basis, without justice system, without court, that is still a crime whether you behead them or kill [them] with a gun," alTurki said, referring to IS executions.

The spokesperson further said, "When we do it in Saudi Arabia we do it as a decision made by a court," he said. "The killing is a decision, I mean it is not based on arbitrary choices, to kill this and not to kill this."

Saudi Arabia has been increasingly concerned about IS' expansion and is reportedly building a 600-mile long "Great Wall," to keep the Islamic State out of its borders.

Saudi Arabia had on Sunday beheaded a convicted murderer, bringing to five the number of people executed since new King Salman took office, continuing the kingdom's use of the harshest punishment.


RELATED POST: Saudi beheads murderer, 5th execution under new king


According to an AFP tally, 17 locals and foreigners have been executed in the kingdom this year.
COMMENTS (8)
Comments are moderated and generally will be posted if they are on-topic and not abusive.
For more information, please see our Comments FAQ