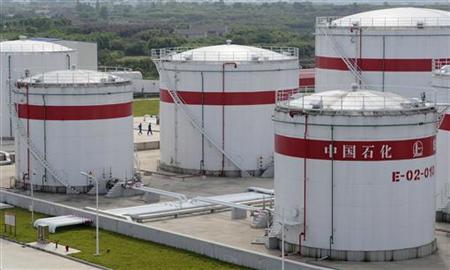 ---
SINGAPORE: Oil fell towards $83 after soaring US inventories signalled demand in the world's top energy user is lagging the recovery in the global economy.

The International Monetary Fund on Wednesday said the world's recovery from recession had been quicker than expected, raising forecasts for growth this year.

However the IMF report and robust data on Chinese imports, failed to overcome investors' unease over the Greek debt saga, sapping the euro while the yen benefited.

Crude inventories in the United States rose unexpectedly last week, government statistics showed on Wednesday, while fuel supplies climbed more than forecast.

"The unexpected increase in crude inventories speaks of a bearish outlook," said Serene Lim, a Singapore-based oil analyst at ANZ. "Demand has not really kept up with the economic recovery."

West Texas Intermediate crude for June, the US benchmark, slid 31 cents to $83.37 a barrel by 0341 GMT.

US crude prices are under pressure from last week's 1.8-million-barrel stockpile gain at the Cushing, Oklahoma pricing point reported by the Energy Information Administration, which accounted for most of the 1.9-million-barrel increase logged at a national level.

For chart watchers, US crude is bound to continue in a falling trend, targeting $82 a barrel. For a short-term technical outlook for crude prices:.

At more than 34 million barrels, landlocked crude inventories at Cushing are nearing the level at which they trigger a disconnection of WTI from global oil markets.

Front-month ICE Brent fell just 17 cents to $85.53 a barrel on Thursday after rising a day earlier on data showing strong Chinese demand, diverging from falling US crude. June Brent was trading more than $2 higher than June WTI.

China's apparent oil demand in March rose 12.3 percent from a year earlier, the 7th double-digit increase in a row, Reuters calculations showed from official data released on Wednesday.

"There could be some support from Chinese demand, looking at how strong the economic growth is," Lim said. "There is high demand because of the spring seasonal peak from agriculture."

Rising consumption in China, the world's second-largest oil user, has helped support crude prices as demand from developed economies struggles to rebound from the recession.

US demand for distillates including heating oil and diesel fell 0.1 percent in the past four weeks from a year earlier, the EIA said. Inventories climbed 2.1 million barrels to 148.9 million barrels, eclipsing a forecast rise of 800,000 barrel.

And gasoline stocks rose 3.6 million barrels to 224.9 million barrels, by far topping projections by analysts polled by Reuters who had forecast a build of 400,000 barrels.
COMMENTS
Comments are moderated and generally will be posted if they are on-topic and not abusive.
For more information, please see our Comments FAQ