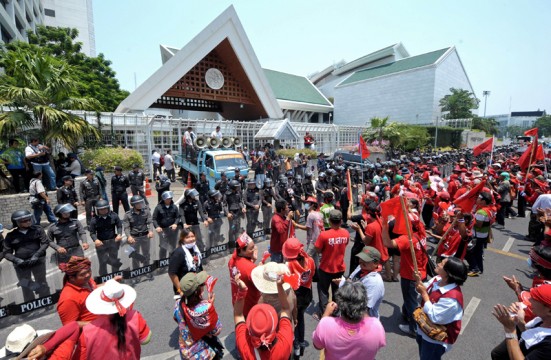 ---
BANGKOK: Thailand's political crisis has spread to the rural northeast, where protesters have blockaded a military train and detained hundreds of troops, officials said on Thursday.

Hundreds of anti-government campaigners are locked in a standoff with the military after Wednesday halting a train carrying armed soldiers and heavy equipment in the northern capital of Khon Kaen province.

Also in a district of Khon Kaen overnight, hundreds of red-shirted protesters stopped three military buses with troops aboard and forced them to return to their base. And in a third incident nearby, the army said that 200 soldiers had been detained by protesters and were still being held.

Army spokesman Colonel Sunsern Kaewkumnerd said Reds leaders in Khon Kaen would be summoned by the authorities over the train incident and charged with obstruction and and illegal detention.

"If negotiations fail then we have prepared 600 troops and police to crack down on them," he told reporters.

The red-shirted protesters, part of a movement that has staged rolling demonstrations in the capital Bangkok since mid-March, said they feared the troops and equipment were part of a looming crackdown on their Bangkok rallying base.

Street clashes in Bangkok earlier this month left 25 people dead. Authorities said the troops and the 18-carriage train, which has been separated from its engine, were actually destined for the Muslim-majority southern provinces where a separatist insurgency is raging.

On Thursday the train was patrolled by armed soldiers, as hundreds of Red Shirts milled around. Protest leaders in Bangkok urged other supporters in the area to reinforce them.

The Reds have rolled large concrete cylinders onto the track to stop it being moved, and said they will hold the train for five days until after the expected crackdown.

"We want to stop the military from killing more people so we have stopped them first," Yongyuth Kongpatimakorn, a Red Shirts leader from Khon Kaen said at a Bangkok news conference.

The protest movement, which draws much of its support from the rural poor, is largely loyal to former premier Thaksin Shinawatra, who was ousted in a 2006 coup and is living in exile to avoid a jail sentence for corruption.

The Reds say the current government of Prime Minister Abhisit Vejjajiva is undemocratic because it came to power in a parliamentary vote after a court ruling removed Thaksin's allies from office.