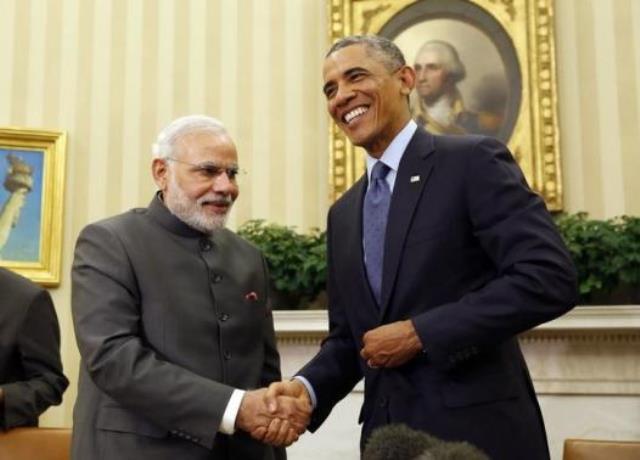 ---
WASHINGTON: United States President Barack Obama will travel to Saudi Arabia on Tuesday to meet with new King Salman to pay respects after the death of King Abdullah, the White House said on Saturday.

Obama is scheduled to arrive in New Delhi on Sunday where he will meet with Indian Prime Minister Narendra Modi and attend the Republic Day parade.

He will cut short his trip, missing a planned tour of the Taj Mahal, to travel to Saudi Arabia, the White House said.


President Obama will go to #SaudiArabia Tuesday to pay respects to King Salman bin Abdulaziz & family of late King Abdullah bin Abdulaziz

— Obama NSC- Archived (@NSC44) January 24, 2015


The White House had originally planned that US Vice President Joe Biden would lead a delegation to Saudi Arabia, but now that Obama will travel to Riyadh, Biden will remain in Washington.


RELATED: Saudi Arabia's King Abdullah dies at 90, Salman becomes new ruler 


Hundreds of cleaners had been hired to spruce up the white marbled mausoleum in preparation for Obama's arrival.

Obama is due to leave the Andrews Air Force Base later this evening, accompanied by a delegation of seven top officials as well as his wife, Michelle, the White House confirmed.

"The President is very much looking forward to this visit.  It is a genuine honour to be invited as the guest for Republic Day" and Obama "is looking forward to see the festivities associated with Republic Day firsthand," his press secretary Josh Earnest said on Friday.

With this trip being Obama's second during his time in office, he will be having a series of meetings with political leaders in India including one with Indian Prime Minister Narendra Modi, Earnest told reporters.

After the refueling of Air Force One in Germany, Obama is due to touch down at Delhi International Airport at 10am on January 25.

Quoting Obama, Earnest said he "certainly enjoyed the conversation" that he had with Modi when the Indian leader visited Washington in September.

"I think he does see an opportunity to build a strong working relationship not just between our two countries, but between the two leaders who do share sort of a common sense of purpose and vitality," he said.

On his arrival, Obama will be accorded a ceremonial welcome around noon at the Rashtrapati Bhawan by President Pranab Mukherjee and Modi followed by a visit to Mahatma Gandhi's memorial where he will participate in a tree planting event.


RELATED: Obama in India: 50,000 policemen, 15,000 CCTV cameras and 40 dogs to protect world's most powerful man


Obama will then join Modi for a restricted working lunch at the Hyderabad House and participate in a "walk and talk" with the PM around 2.45pm, the White House said.

The two leaders will then have an expanded delegation-level meeting, which is expected to last for about an hour after which, they will jointly address the press.

Later in the evening, Obama is scheduled to meet embassy personnel and families at ITC Maurya Hotel followed by a state dinner with Mukherjee.

On January 26, Obama will participate in the 'Republic Day' celebration as the chief guest along with the First Lady. They will then attend a reception with India's president at his residence. 


Both Obama and Modi will participate in a CEO forum roundtable and deliver views at a US-India Business Summit.

Before his departure on January 27, the US president will give an address at the Siri Fort Auditorium.
COMMENTS (21)
Comments are moderated and generally will be posted if they are on-topic and not abusive.
For more information, please see our Comments FAQ