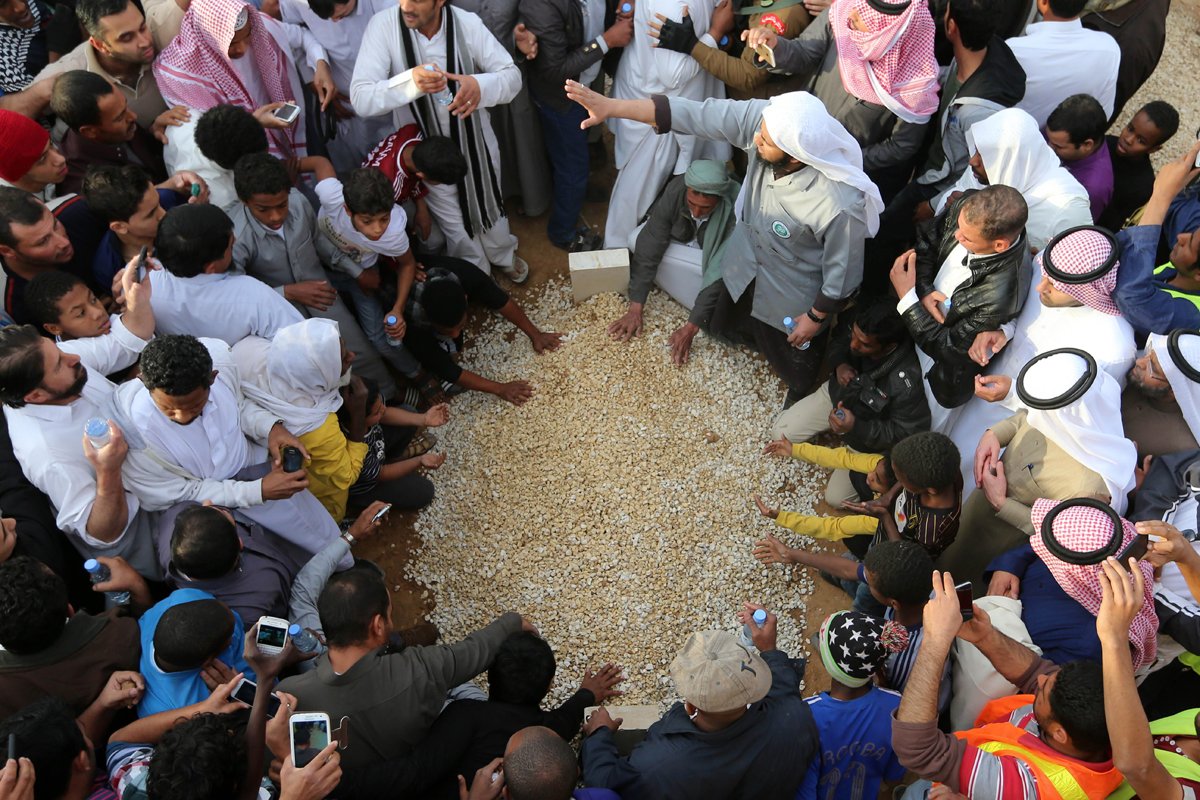 ---
RIYADH: Saudi Arabia's King Abdullah bin Abdulaziz died on Friday and was replaced by Crown Prince Salman, the OPEC-kingpin's royal court said in a statement.

The late monarch's half brother Moqren was named crown prince, according to the statement.

King Abdullah, believed to be around 90 years old, was hospitalised in December suffering from pneumonia and had been breathing with the aid of a tube.


RELATED: Saudi King Abdullah: patient reformer who battled hardliners 


He died on Friday "at 1:00 am (2200 GMT)" and would be buried later in the day following afternoon prayers, said the statement.

In recent years, his advanced age and poor health had raised concerns about the future leadership of one of the world's key oil producers.

Abdullah's half-brother Salman, 79, was named crown prince in June 2012 following the death of Prince Nayef bin Abdulaziz.

Salman had been representing the king at most recent public events because of the monarch's poor health.


RELATED: New Saudi ruler King Salman bin Abdulaziz


In March 2014, King Abdullah named his half-brother Prince Moqren as a second crown prince, in an unprecedented move aimed at smoothing succession hurdles.

Moqren, who was born in 1945, is the youngest of Abdulaziz's sons.

Since the death in 1952 of King Abdulaziz al-Saud, the founder of Saudi Arabia, the throne has systematically passed from one of his sons to another.


RELATED: Here's everything you need to know about the Kingdom


But many of them are old or have died. The former crown princes Sultan and Nayef died in 2011 and 2012 respectively.

World leaders have taken to their social media accounts to express their condolences to the kingdom. The White House released a statement to pass on the sympathies of the American people.


President Obama on the death of King Abdullah bin Abdulaziz. pic.twitter.com/8wXmZp6EGU

— White House Archived (@ObamaWhiteHouse) January 23, 2015


Indian Prime Minister Narendra Modi referred to the King as a guiding force and also expressed his sympathies via Twitter.


Our thoughts are with the people of Saudi Arabia, who have lost a guiding force in King Abdullah, during this hour of grief.

— Narendra Modi (@narendramodi) January 23, 2015


Prime Minister Nawaz Sharif has also departed for the funeral prayers for King Abdullah.

Jordan's King Abdullah has pulled out of the World Economic Forum in Davos, Switzerland, early following the death of Saudi Arabia's King Abdullah.

Other Arab delegates also left Davos prematurely, ahead of the funeral of the Saudi king


RELATED: King of Jordan cancels Davos talk after Saudi king's death


Turkish President Recep Tayyip Erdogan on Friday postponed a planned trip to Somalia to attend the funeral of Saudi Arabia's King Abdullah, media reported.

He will go to the Saudi capital after completing an official visit to Ethiopia and will end the day in Djibouti.


RELATED: Turkish president postpones Somalia trip to attend Abdullah funeral


Saudi Arabia's new King Salman, in his first public address, pledged on Friday no change in the kingdom's direction and called for unity among Muslims.

"We will remain with God's strength attached to the straight path that this state has walked since its establishment by King Abdul Aziz bin Saud, and by his sons after him," Salman said in televised remarks.



Saudi Arabia buried King Abdullah Friday evening as foreign leaders gathered in the capital for the funeral of the ruler of the world's top oil exporter and the spiritual home of Islam.

New Saudi ruler Salman joined Gulf rulers and leaders including Turkish President Recep Tayyip Erdogan and Pakistani Prime Minister Nawaz Sharif for a funeral service at Riyadh's Imam Turki bin Abdullah mosque.

Abdullah's shrouded body was borne on a simple litter by members of the royal family wearing traditional red-and-white checked shemagh head gear.

The body was quickly moved to nearby al-Od public cemetery where it was buried.