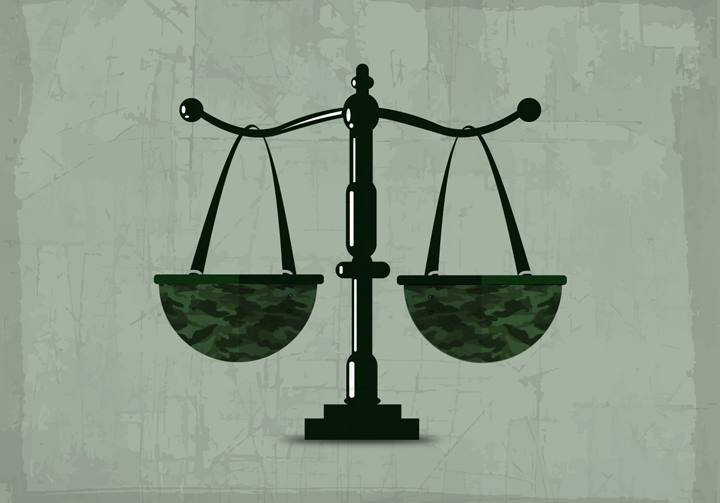 ---
ISLAMABAD:



International law permits military courts but they are not a permanent solution and selective cases should be referred to them, said former law minister Ahmer Bilal Soofi.




"Military courts or tribunals are permitted under international law and there is no prohibition to establish the same in order to carry out prosecution of specialised offences against the state such as waging war," said Soofi while conducting a legal workshop on the context of military courts on Thursday.

The workshop was organised by the Research Society of International Law (RSIL) as part of its capacity-building activities and was attended by diplomats, journalists and academicians. The event also marked the formal inauguration of RSIL's new premises.

Soofi, the president of RSIL, said the provincial governments and all other arms of the state, have an obligation to counter terrorism under binding UN resolutions.

An acquittal by an anti-terrorism court on whatsoever reasons is internationally viewed as an inability of the state to fulfill its obligations, he said.

Military courts, politically, have been set up keeping this larger context in view to enable the state to fulfill its obligations for countering terrorism, said the law expert. He noted that military courts were not a permanent solution and only selective cases should be referred to it.

Soofi revealed that a provision of the Army Act states that the Code of Criminal Procedure and the Qanun-e-Shahadat will be applicable to trials under the Army Act. He also briefed the audience about the due process requirements under the International Covenant on Civil and Political Rights.

In response to a question, Soofi said the government and judiciary needed to make a distinction between the law of peace and of conflict.

The traditional declaration of war is no longer required for the law of war to apply, he said. This is because the notification under Article 245 asking the armed forces to come to aid the civil power can be treated as a notification intimating commencement of conflict and that is when Pakistan's domestic law of war can apply, he added.

Published in The Express Tribune, January 23rd, 2015.