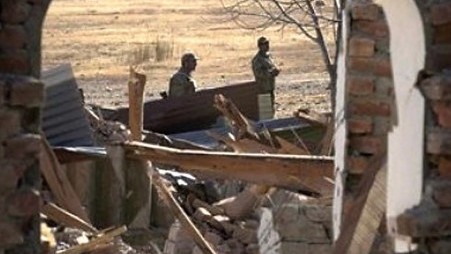 ---
PESHAWAR: An unfamiliar sound breaks through the silence on the night of April 8 and Amanullah runs out of his house to discover that his gate has been reduced to a pile of metal.

Amidst the settling dust, he discovers that the school once opposite his house has been blown up. The school in Landi Arbab village is now nothing but rubble. Three schools were blown up that night in the outskirts of Peshawar. Education in the province of Khyber- Pakhtunkhwa is amongst the biggest victims of terrorism.

The residents in the area have difficulty understanding why education is being targeted. Abid Hameed, a resident of Peshawar said: "I do not know why education is targeted, maybe because they (militants) are against women's education". An interesting opinion comes from the Pakhtun nationalists. They say the Taliban are a phenomenon of "Arabian Expansionism".

Local movements like "Aman Tehrik," a cluster term for the Pakhtun Civil Society, think it's an act to keep the Pashtuns deprived of education. "Terrorism infests many parts of the country, then why are schools targeted in Khyber Pakhtunkhwa and Fata (Federally Administered Tribal Areas)?" they said. On the other hand, the Taliban have said that schools are blown up in areas where the army uses them for accommodation.

However, the explanation comes in doubt when schools are blown up in areas where there is no military presence. Statistics from the Executive District Officer show that out of the 640 schools blown up in Dir, Swat, Buner and Malakand Agency, 281 were girls' schools while 359 were for boys. As a result, 922,000 thousand students enrolled in these schools have suffered.

An umbrella survey of the partially damaged and completely destroyed schools shows that an estimated Rs 5.75 billion is required to reconstruct schools in the Malakand Division alone. The report also says that some damaged schools are beyond repair and require complete reconstruction.

Interestingly, some of the top militant commanders of the Tehreek-e-Taliban, Swat chapter were school teachers themselves. Taliban Commanders Muhammad Alam from Madyan, Ameer Izzat of the Tehrik-e-Nafaz-e- Shariah and Anwar-ul-Haq, are important names amongst the Taliban of Swat who were school teachers and later joined the Taliban.

No matter what the objectives of the militants are, the fact remains that schools are continuously being targeted now, both in Taliban infested areas and elsewhere. The recent bomb which was kept in a school bag in front of the Police Public School on University road, Peshawar that claimed the life of five-year-old Taimur should ring alarm bells before it is too late.