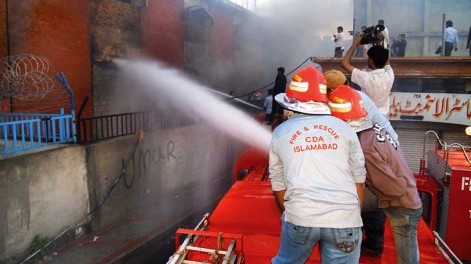 ---
ISLAMABAD: A welding technician died in a fire at Aabpara Police Station on Wednesday evening.

According to Bani Amin, DIG of Police, the fire started because of a short circuit. Talking to journalists, Amin said repairs were underway in the residential rooms of the police station on the first floor. He said the short circuit had been caused by running highpowered welding machines on the weak electric power supply of the police station.

"An inquiry has been ordered to ascertain why the highpower machines were used and who ordered it," said the DIG Operations. He further added some furniture and other belongings of the officials such as uniforms had been burnt in the fire. However, the total estimate of the damages would be determined by the inquiry committed headed by SP City, Sajid Kiyani.

According to police officials, 38-year-old Arshad Khan, a welding technician was fixing the windows of the rooms, when his welding machine caught fire due to a short-circuit and later exploded. Arshad was shifted to the Poly Clinic where he succumbed to injuries. Another welding technician also suffered minor injuries.

The fire broke out at around 6:30 pm and quickly engulfed three residential rooms of the first storey. These rooms are reserved for the officials of the police station. Capital Development Authority's Fire and Rescue Teams reached the spot but took more than an hour to extinguish the fire.

Talking to The Express Tribune, rescue officials said the fire was controlled before it could expand and reach the armoury. The bomb disposal squad was also called in as a precautionary measure. Amin also confirmed, while talking to media, that all official records as well as arms and ammunition in the armoury were untouched.

"Apparently, it was an accident, however, the inquiry committee will look into all possibilities and strict action will be taken against those responsible for the incident" he said. Aabpara Police Station is the oldest and biggest in the city.

It also hosts the central armoury and record room of the district. The weapons seized by security forces during the Lal Masjid Operation in July 2007 were also kept at this armoury, including defused Rocket Propelled Grenades. Some of these weapons were stolen from the police station in November 2008 but recovered the next month.