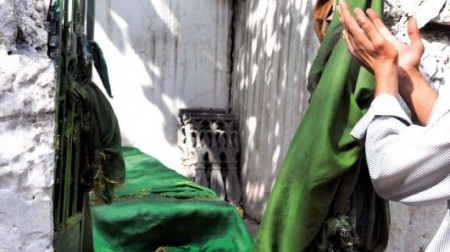 ---
ISLAMABAD: Mohammad Ameen holds the shrine of the Living Saint in special reverence.

He strongly believes the prayers he offered there cured him of a heart condition. Now working as its caretaker, he wishes to dedicate his life to carrying forward the message of the saint buried there. For Rehan Khan*, 19, the secluded shrine is an amazing doping spot. Hidden between trees on the slope of a hill just above Hot Spot ice cream parlour, it provides him the perfect cover to indulge in his pastime away from prying eyes.

The shrine of the Living Saint, known to villagers as Zinda Pir, rests under the shade of banyan trees in the 400-year-old village of Saidpur.

Legend has it that the Living Saint is actually Khawaja Khizar, who people believe became immortal after drinking from the 'fountain of life.' Around seven decades ago, a saintly woman who came to be known as Maee Faqeerni was buried at the spot.

Villagers said she had migrated from Kashmir and lived in Saidpur for 50 years, dedicating her life to the welfare of the village.

She became so venerated that people would walk all the way from adjoining villages like Talardh and Gokina to seek her blessings. She died in 1930 and was buried in Saidpur according to her will. To honour her memory, villagers light oil lamps at the shrine every Thursday and distribute alms on Sundays.

But with Saidpur having turned into a commercial "model village" by the Capital Development Authority (CDA), a number of restaurants, jewellery stores and art galleries have opened up, bringing with them racket and loud music.

Couples are often found sitting aimlessly around Maee Faqeerni's grave, and teenagers are known to experiment with drugs and alcohol near the shrine. The devotees of Zinda Pir are in fear of the desecration of their religious heritage and have been urging for a "little more respect."

"The shrine of Zinda Pir has a history of great religious importance to us," said 65-year-old Raja Iraj, a Saidpur resident. "CDA's project may have been beneficial to the locals in terms of business, but the violation of our religious sentiments is a price we are not willing to pay."

Residents of Saidpur said complaints against loud music had been made several times but to no avail. The caretaker of the shrine, Mohammad Ameen, added, "CDA should take a stand against violations of our sacred traditions. But it doesn't seem to pay much attention."

Responding to the concerns of the villagers, Ramzan Sajid, spokesperson CDA, said, "It's difficult to keep a check on such large-scale commercial activities. But negotiations with NGOs as well as Unesco are underway and we will soon come up with concrete plans to protect the rich heritage of the capital."

Iraj said before the commercialisation of Saidpur, worshipping at the shrine of the Living Saint had been a surreal experience. With oil lamps lit and flags raised, worshippers would sink into deep thought, away from the troubles of daily life. "We would come here and get in touch with our inner feelings, which gave us great comfort," Iraj said. "I don't think we will ever get that feeling from Zinda Pir again."

*Teenager's name changed to protect his identity.