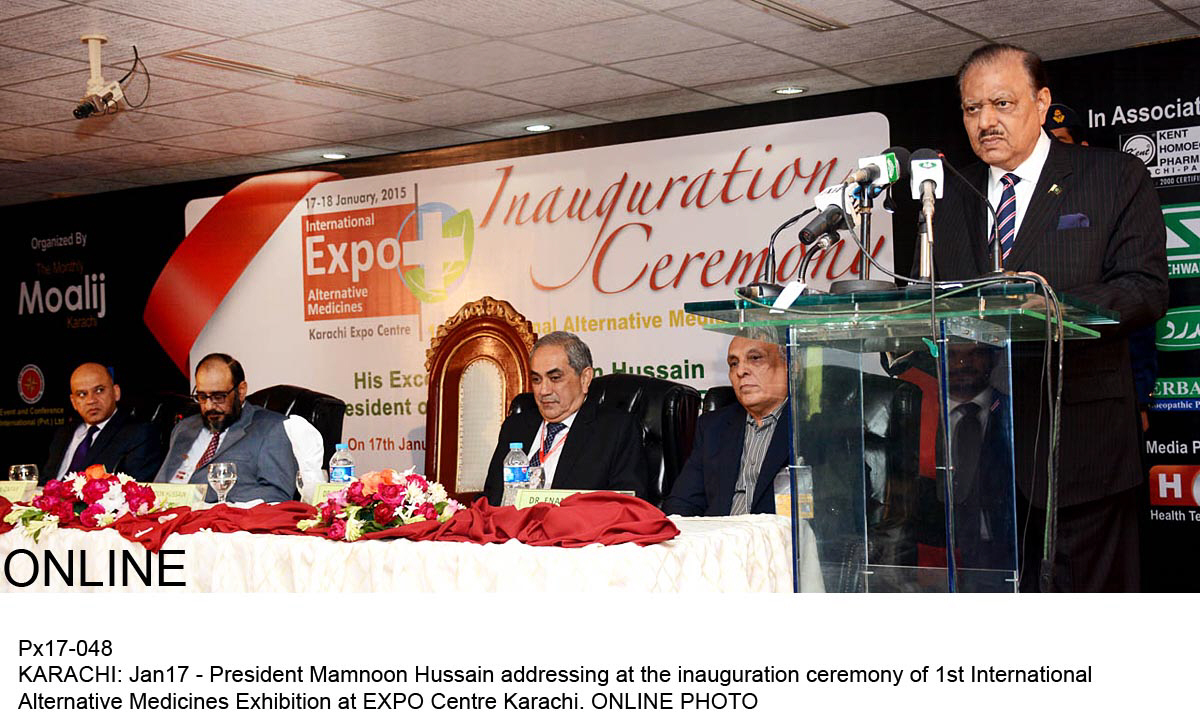 ---
KARACHI: 'The body has the ability to heal itself' is the first rule of homeopathy or homeopathic medicine, which was introduced and practiced throughout Europe by the Germans in the late 1700s.

Three centuries later, many people still opt for homeopathic medicine over regular antibiotics and were ready to make their way to the Karachi Expo Centre on Saturday to attend the country's first alternative medicine exhibition.

Pop a pill

Homeopathic health practitioners or homeopaths, believe that symptoms of illness are the body's response as it attempts to regain health. Their theory is to give pills or solutions containing a plant or mineral for treatment to enhance the body's normal healing.

"Softgel Capsules are an antianginal medication," said Kashif Siddiqui, a project manager from Sancura Pharma. "It is a traditional Chinese medicine made from Chinese herbs. In the Chinese army, if a soldier is over the age of 40, a heavy smoker or someone with a genetic heart disease, they have to start taking these pills."




Dr Shoaib Raza who is also associated with Sancura Pharma claims that eight out of every 10 patients do get better after taking this medicine. "It is used as a preventative medicine not curable," he said. "If you 40+ or a chain smoker, the medicine is a must for you. It will stop your arteries from clogging." He added that the capsule costs Rs1,000 and has to be taken regularly for 30 days minimum.

According to Dr Akram Zia, a homeopath, homeopathic medicine helps the white blood cells (WBC) get stronger. "It does not kill the virus directly but make the WBC fight the virus," he said. "Allopathic medicine, on the other hand, directly attacks the virus." He added that killing the virus renders some side effects, whereas, increasing the WBC count or making them more powerful only enhances the immune system.

While talking to The Express Tribune about treatment for cancer patients, Dr Zia said that poison could kill poison. "We have derived a medicine from the 'poison' of cancer," he said. "We use Carcinosinum. Carcino means cancer. Initially, we give high doses of carcinosinum mixed with alcohol depending on the condition of the patient. We adjust the quantity depending on how they are doing."

Sehrish Waheed from the Homeopathic Welfare Organisation, said that since there was no concept of surgery in homeopathy, they could not kill the tumour. She claimed that they could, however, stop it from growing.

"Cancer patients usually come to us when they are done with all allopathic treatment," she said. "We try to make their life easier by giving them medicine. This stops the growth of the tumour and gives them a couple of days to live comfortably without pain."

The organiser and director of Cant Pharma, Adeel Manzoor, said that homeopathic medicines were basically supplementary medicines. "It is the natural way to treat the disease," he said. "The side effects of homeopathic medicines are less than that of allopathic medicines."

The presidential address

Also at the exhibition was President Mamnoon Hussain. While speaking to the media he said that this was the exhibition was the first of its kind in Pakistan. Talking about the situation in the country, he said that a national consensus had been formed to eliminate terrorism from the country and no compromises would be made.

With additional information from APP

Published in The Express Tribune, January 19th, 2015.