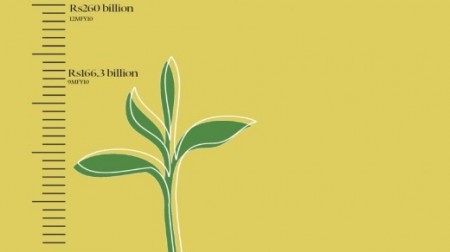 ---
KARACHI: The agricultural credit disbursement target of Rs260 billion set for the current year may not be met, according to data released by the State Bank of Pakistan.

Agricultural credit disbursement by commercial and specialized banks was Rs166.34 billion in the first nine months of the fiscal year 2010. This is a 9.53 per cent, or Rs14.47 billion, increase Year-over-Year. To meet the set target of Rs260 billion, the banks should have disbursed around Rs174.76 billion in the nine months of the fiscal year.

They have not been able to do this so far. This is because they have not been meeting the average monthly lending requirement of Rs19.4 billion per month to meet this target. Banks disbursed a total of Rs 233.01 billion to the agricultural sector in the fiscal year 2009, according to the Central Bank of Pakistan.

"Considering the increases in non-performing loans and stricter credit policy that local banks have instated as a result, a 9.53 per cent year-overyear growth in Agricultural loans is reasonable," said analyst at JS Global Capital, Mustafa Bilwani.

Local banks cater to only 20 to 25 per cent of the country's Agricultural loans demands, said Bilwani, adding that agricultural loans were not very accessible to people in Pakistan, but that their availability was increasing slowly.

He said that "one should not expect much in these hard economic times." The reason for the lack of agricultural loan availability in the country is because "not enough bank branches spread out over Pakistan," according to Bilwani. He added that it was also because of stricter bank credit policy for new loans owing to the state of Non-performing loans.

The share of the five major banks and the Zarai Taraqiati Bank limited (ZTBL) in the amount of agricultural loans disbursed has increased. Bilwani said that this was a satisfactory development. ZTBL, the specialised bank disburses loan at 8 per cent interest rate. But other banks charges an 18 to 22 per cent interest rate.

Few growers are fortunate enough to convince these banks to lend them money, even at such high interest rates, said Nadeem Shah, a grower and general secretary of Sindh Abadkar Board (SAP). Limited information and understanding of the rural markets and economy has been one of the key impediments limiting banks becoming more accessible to the agricultural sector in the country.

Shah said that it was unfortunate that small farmers got loans at 50 per cent interest rates from individual lenders (patwarees) owing to tough lending procedures. A recent agricultural survey of SBP in Sukkur district, Sindh revealed that 52 per cent of the farmers covered in a survey did not have a bank account. About 89.6 per cent of the farmers who responded to the survey said that they knew nothing about the different products being offered by banks for the farming community.

Only five per cent of the farmers surveyed had obtained loans from banks, Fifty four per cent of them had gotten loans from informal sources such as friends, family and input suppliers.

Overall credit disbursement by the five major commercial banks including Allied Bank Limited, Habib Bank Limited, MCB Bank Limited, National Bank of Pakistan and United Bank Limited stood at Rs 85.18 billion in July- Mar 2010 compared with Rs 74.37 billion in July-Mar 2009, up 14.54 per cent. ZTBL disbursed a total of Rs 48.987 billion in July-Mar, 2010, up 7.90 per cent as compared to Rs45.4 billion in the same period last year.

Disbursement by the Punjab Provincial Cooperative Bank Limited stood at Rs3.53 billion in the July to March 2010 period, as compared to Rs3.54 billion for the same period last year. Fourteen domestic private banks also loaned a combined amount of Rs28.64 billion from July to March 2010 compared to Rs28.56 billion disbursed in the same period last year. More than 20 per cent of the country's GDP comes from the agriculture sector which also employs about 41 per cent of the labour force. It sustains almost 67 per cent of the population.
COMMENTS
Comments are moderated and generally will be posted if they are on-topic and not abusive.
For more information, please see our Comments FAQ