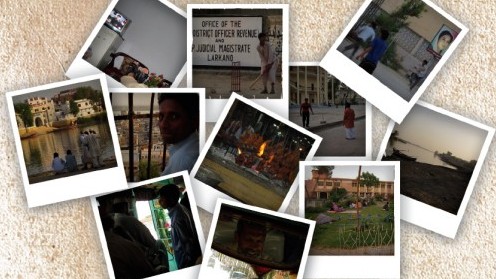 ---
LARKANA: "Nobody cares," says The Graduate, one of my guides through Larkana. "Look at this village. Have you heard about this village? A whole village had an outbreak of hiccups. All of them hiccuping like mad people. And no MNA, nobody, nobody went to help them. Nobody cares. "Corruption. It's everywhere. They are not good people. All of them. All of them.

"Sometimes my bill comes. I only run one fan, a few lights, and one TV. My bill comes and it is three or four thousand rupees. How can I pay this? How is it so much?" In Karachi, I run a laptop and a fridge and a stereo and an AC and more and yet my bills are only just above that figure. "How is it so much?" I ask. "The big people don't pay. Us small people have to pay," comes his reply. "The people who own the rice mills, even the hotels, they don't have proper meters, they pay off people and they don't pay their real bills.

But the burden has to be fall somewhere. No? The electricity is being used, so somebody has to pay. We pay. The poor man pays." That night in my hotel I feel more than a flicker of guilt as I switch off the light and go to bed. Garhi Khuda Bakhsh is where the Bhuttos are buried and the path to the mausoleum is beautiful. The green of the trees is more pronounced. I see white wild ducks in a clean pond. The structure itself rises in the distance beyond idyllic fields like a fairytale palace. Or a Taj Mahal-lite. In a small lake in the shadow of the tomb three or four children are swimming in the afternoon sun. One boy sits on the sidelines as the others call out to him. They entreat him to join them in the water. They beg and shout. The boy shakes his head. "No. No. I'm not coming in. No!" He is about nine years old and is dressed in a crisp white shalwar kameez and looks lonely and sad. On my way out, after visiting the tomb, I see the boy again. The others have given up calling out to him and are splashing around, doing somersaults. The boy on the sidelines looks even sadder than before.

I say to Mr Cheeks, one of my other guides through the journey in Larkana, "Does your heart hurt when you think that Benazir is no longer alive?" He tells me that he still can't believe it. It is as if his own sister, his own mother, has gone. I tell him I am sorry for his loss and it was a terrible end. "When Mohtarma died, nobody in Sindh cooked food in their house for eight days," he says. "This is our feeling for her. She was our own family. One of us." I nod and think that if nobody in the whole province made food for eight days then what did they eat?