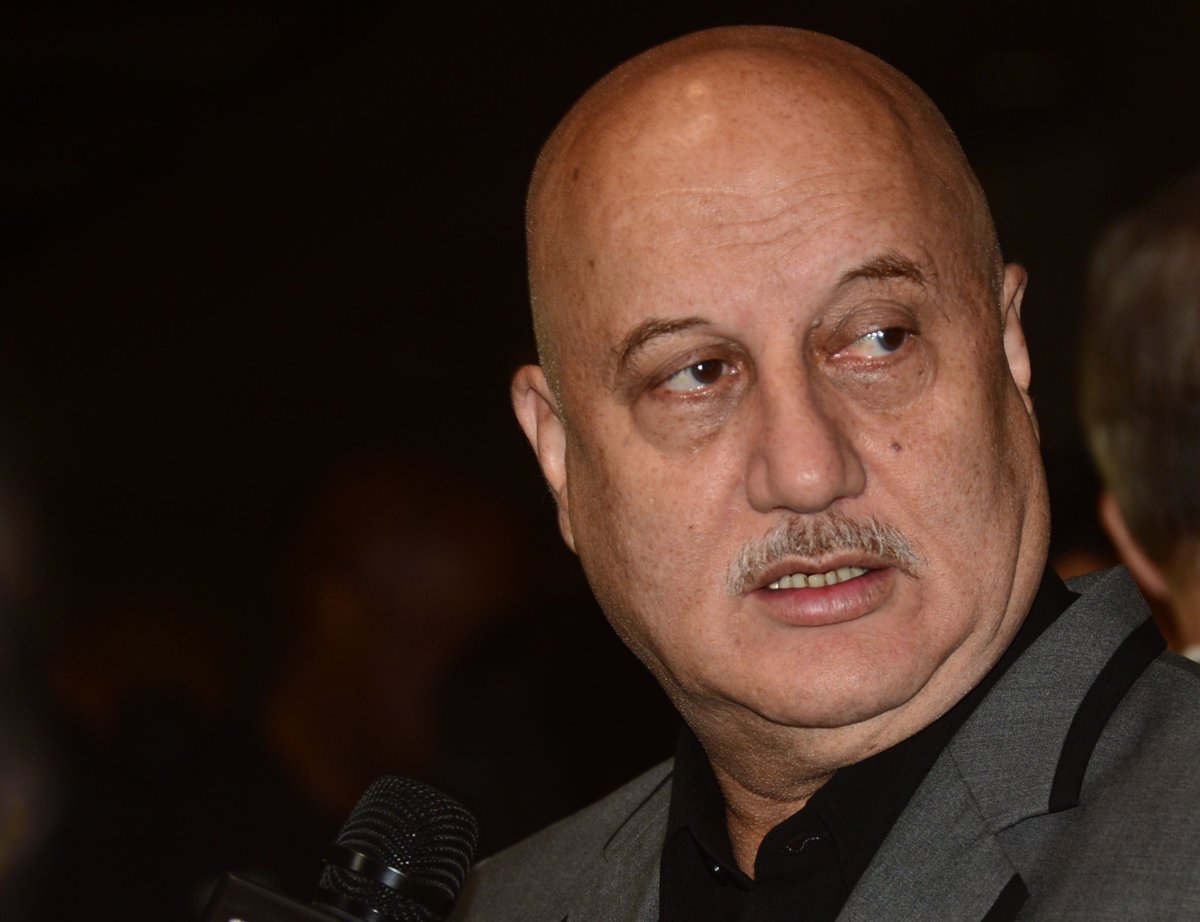 ---
ISLAMABAD:
As the Peshawar school massacre sent shock waves through the world, a voice across the border served as a clarion call for uniting against terrorism. Expressing blatant disgust and an implicit urge to put an end to the prevailing barbarism, this voice encapsulated the sentiments of the disenchanted millions.
This wasn't just another voice. It epitomised the nobility of an artiste whose words lent just as powerful a blow as the dialogues of his films. Through his open letter to the terrorists behind the Peshawar attack, veteran actor Anupam Kher proved that one doesn't have to hold a position of political authority to pivot the masses towards change. The timeless star of Bollywood speaks to
The Express Tribune
about how he fearlessly treaded where most fear to tread, and life in and beyond cinema.
RELATED: 'You have reduced me to a dead man walking'
"Terrorism is currently the most bothersome situation, not only in India and Pakistan but also in the world," says Kher. "Any act of terrorism has to be condemned, but the inhumane way in which the children were killed really upset me. I decided to vent my feelings and the letter was an on-the-spot reaction," he adds. "Seeing nearly 150 children killed in an act of terrorism devastated me."


Commenting on his uninhibited expression in, and intent behind, the letter, he shares, "I don't care when I write rightfully about something. You either think things are right in your life or you think they aren't." He states that the only religion one should believe in is the religion of humanity and that "there is no religion that advocates the killing of innocent people."




Kher narrates that he was recently part of a seminar for Harvard Business School students, during which two Pakistani men came up to him and said they had always been admirers of his acting but became even bigger fans after he wrote the letter. "[When this happened], I didn't think that 'Oh! I'm going to be popular among Pakistani people.' [I don't do such things] to be popular or [spread] propaganda," he states. "Wherever anyone gets killed, it bothers me just the same. And as someone who's popular, one has a bigger responsibility to convey what one feels."

The actor has a film like A Wednesday! to his credit, which addresses the topic of terrorism. He will soon be seen in the upcoming Indian espionage action-thriller film Baby, which also stars Pakistani actors Rasheed Naz and Mikaal Zulfiqar.  On the question of whether he has made a conscious effort to opt for films with terrorism as the underlying theme, he says, "A Wednesday! deals with the issue of terrorism, but so do many other films. I don't plan life and I don't plan things. I react to things emotionally."

Having done numerous films in his three-decade-long career, Kher feels that the Bollywood industry has evolved. "Every industry evolves over a period of time. It's only people and places that deteriorate. But evolution has its pros and cons," he comments, adding, "I think Bollywood has evolved over a period of time but I also, sometimes, feel that everything is instant in life – instant coffee, instant entertainment… instant everything." But he feels that audiences in India are educated now, which is why directors have the liberty to make the kind of films they want. "This is why films, such as Khosla Ka Ghosla, A Wednesday! and Special 26, could be made."




Known for his versatility, Kher has earned his spurs by depicting roles that range from a vengeful father in Kaho Naa... Pyaar Hai to a colourful college principle in Kuch Kuch Hota Hai. "An educated actor would always say that actors are not supposed to just do a certain kind of thing. But I feel the most difficult thing for an actor to do is comedy because it involves a sense of timing and making people physically laugh. I'm lucky to have done various roles in varied genres."

He adds, "I enjoy making people laugh, so, I think comedy is interesting but doing tragedies is also rewarding." Kher, who received the 'Best Actor' award at the Kara Film Festival for the 2005 film Maine Gandhi Ko Nahin Mara, shares, "I'm among the very few actors on this side of the Subcontinent who has been able to do various kinds of roles and, hopefully, I have done them well."

On the theatre front, Kher recently staged an autobiographical play titled Kuch Bhi Ho Sakta Hai. "It is a 127-page-long play that centres my life's failures. I wanted to do something on optimism and, honestly, I was going through a bad phase both financially and work wise; so, it was just another way of earning money," he shares about the play. He felt the best way to feel better was by doing a play on his own failures.

"In the play, I laugh at all the things that went wrong in my life, right from my birth till now. When you laugh at your shortcomings, it gives you courage and also a certain sense of optimism." Of the television series Kuch Bhi Ho Sakta Hai, he comments, "The show is an extension of the play. We have completed around 300 shows worldwide. I was supposed to perform in Pakistan twice, but unfortunately, there were some issues on Pakistan's end and I couldn't come."

Kher sees the airing and growing popularity of Pakistani television dramas in India as a positive development. "Art does not bring change but  it can influence things. Unfortunately, it's the politics that needs to change," he states. "As individuals, people in India and Pakistan love each other. I went to Karachi and received so much love from the people, which was beyond the art." The acting veteran says he would be 'happy' if he gets an offer to play a role in a Pakistani film or drama. "I feel sad that I haven't performed in Pakistan as yet. My play is fantastic and I really want to perform there too," he states.

Kher perceives the influx of the new wave of Pakistani actors into Bollywood as a welcome change. "This is recognition of Pakistani talent by Indians. I wish [this effort is made] from both the sides. The cast of Baby comprises Pakistani actors and it has been wonderful to meet them. I'm good friends with Ali (Zafar) and we've worked together in one or two movies. I also have great regard for Rahat Fateh Ali Khan. I like to believe he's a good friend and we speak once in a while."

Expressing his eagerness to visit Pakistan, he says, "I would love to visit Lahore and Islamabad. Kirron (his wife) was a lot luckier as she featured in the Pakistani film Khamosh Pani and her mother has many friends there too."

EDITED BY: AYESHA SHAIKH

Published in The Express Tribune, January 16th, 2015.

Like Life & Style on Facebook, follow @ETLifeandStyle on Twitter for the latest in fashion, gossip and entertainment.