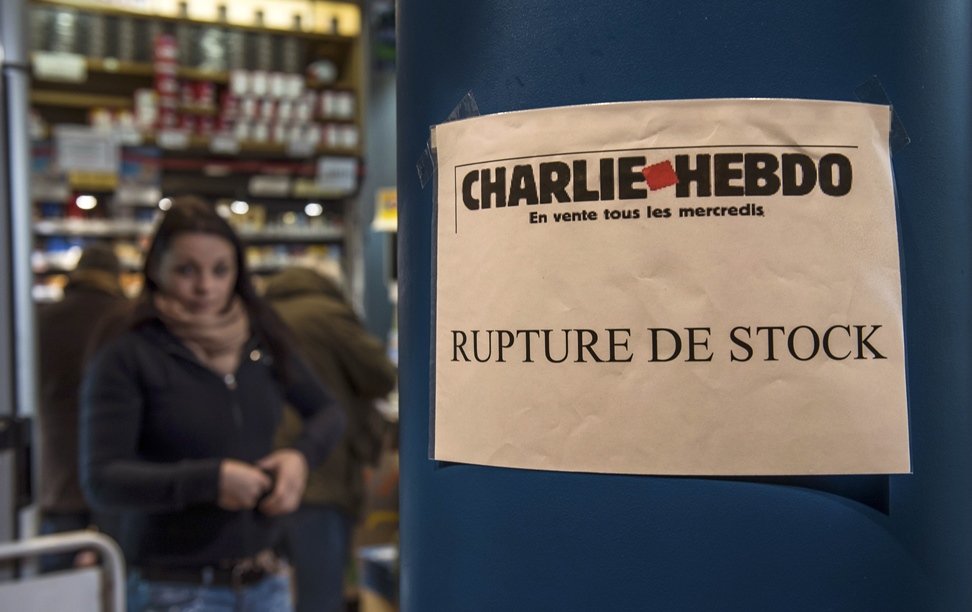 ---
PARIS, FRANCE: Copies of the latest edition of the satirical weekly Charlie Hebdo, which sold out within hours across France on Wednesday, are being offered on eBay for thousands of euros.

A total of 700,000 issues of the magazine, which was the victim of a deadly killing a week ago, were distributed early Wednesday but other copies of the magazine will be made available for sale throughout the week. The weekly, which was struggling to sell its 60,000 copies a week ago, has launched an extended print run that will eventually reach five million copies.

On eBay, one vendor listed the new Charlie Hebdo issues at 15,000 euros ($17,680) for immediate purchase, compared to the cover price of  just three euros. Paris-based media watchdog group Reporters Without Borders (Reporters Sans Frontieres) slammed the apparent opportunism as "absolutely indecent."

Overwhelming demand saw copies sold out across France,the distributors said. "The editor decided this morning to increase the print run to five million," said Veronique Faujour, head of press distribution firm MLP. That is two million more copies than initially planned in the wake of the terrorist attack that decimated the magazine's staff last week. Copies were also to be put on sale in other countries around the world later this week.

The new issue of Charlie Hebdo follows an attack by gunmen last week at the magazine's office in Paris which killed 12 people.

Two black-clad gunmen wielding Kalashnikovs burst into Charlie Hebdo's editorial meeting at its Paris offices, spraying bullets in an attack that left a total of 12 people dead.

It was the start of three days of terror that gripped Paris as police hunted the gunmen, and an accomplice to the killers emerged, gunning down a policewoman before taking hostages at a Jewish supermarket where another four people died.

Muslims consider images of the Prophet, not least ones satirising him, to be blasphemous under Islam. Charlie Hebdo had angered Muslims in the past by printing cartoons lampooning the Prophet and Islam.

On Twitter, the hashtag #JaiMonCharlie (I have my Charlie) was trending in France for those who managed to get a copy.

Turkish daily prints Charlie Hebdo cartoons

Leading Turkish daily Cumhuriyet on Wednesday printed excerpts from the first issue of Charlie Hebdo amid Muslim backlash.

Cumhuriyet, which strongly opposes President Recep Tayyip Erdogan, was the sole publication in a majority Muslim country to reproduce cartoons and articles from the special Charlie Hebdo issue.

Along with a Charlie Hebdo editorial about how it would not give into the attacks, the excerpts in Cumhuriyet included cartoons satirising Nigerian Islamist group Boko Haram and IS.

Cumhuriyet editor-in-chief Utku Cakirozer described the printing of the four-page pull-out as a display of solidarity with Charlie Hebdo, recalling that several reporters from his paper had been murdered in the past.

"We took care to show the maximum respect for religious sensibility and freedom of belief in our society, not just among Muslims, but Christians, Jews, and those who don't believe," he told a news conference in Istanbul.
COMMENTS (10)
Comments are moderated and generally will be posted if they are on-topic and not abusive.
For more information, please see our Comments FAQ