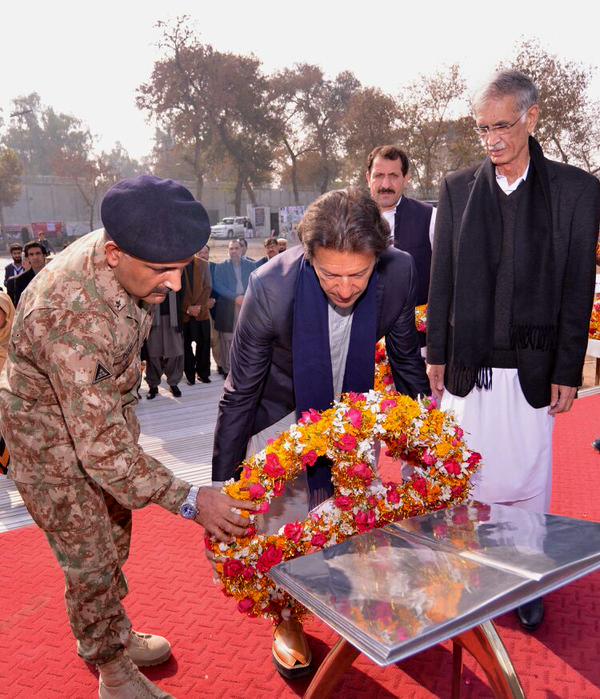 ---
PESHAWAR: Parents of children martyred in the Peshawar attack protested against Pakistan Tehreek-e-Insaf (PTI) chief Imran Khan on Thursday as he arrived at the Army Public School, Express News reported.

The PTI chief, who was accompanied by his wife Reham Khan, was forced to turnaround as mournful parents, overcome by grief and anger, refused to let him inside the premises of the school.

However, according to Express News, Imran managed to enter the school through a separate entrance.

Imran was earlier advised to postpone his visit to the army-run school as the Chief of Army Staff (COAS) General Raheel Sharif had to visit the school the same day.

"You were busy getting married without doing anything about my child who died less than a month ago," said a weeping mother, outside the school, while another parent said the PTI chief had deserted them when they needed him the most.

Urging the PTI chief not to politicise the Peshawar attack, a protester said, "We do not need anyone, whether it's Imran Khan or Nawaz Sharif."

"Imran came after one month to visit the school because he was busy with his wedding," he added angrily, claiming Imran should be ashamed of himself.

Further, Imran was criticised for not doing anything despite being elected as a member of national assembly from the province.

Meanwhile, the PTI has announced that their provincial information minister will shortly hold a press conference to "expose those behind today's incident."


Press Conference by Khyber Pakhtunkhwa Info Minister Mushtaq Ghani shortly. He will expose those behind today's incident. @MushtaqGhaniPTI

— PTI (@PTIofficial) January 14, 2015


Information minister strikes back

Grabbing the opportunity to lash out at PTI chairman Imran Khan, Information Minister Pervaiz Rashid said what Imran had to face today was reminiscent of his style of politics against the PML-N.

"The nation chanted 'Go Imran Go,' today because Imran introduced them to these chants," he said. He added that the chants against the PML-N made no difference to them, but they should matter to Imran since they are coming from mournful parents who have lost their children.



Imran Khan visits APS with 21-car strong motorcade

Always the first to speak against VIP culture, PTI chief Imran Khan was spotted travelling with a 21-car motorcade during his visit to the Army Public School in Peshawar.

As security officers cleared a path for the convoy, the PTI chief's claims of travelling with no protocol were also swiftly cleared away.

Further, people on the spot said when Khyber-Pakhtunkhwa Assembly speaker Asad Qaiser's car was stopped, he created a ruckus and abused the people around.