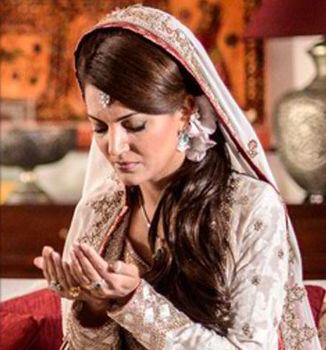 ---
Pakistan Tehreek-e-Insaf chief Imran Khan's new wife, Reham Khan, 41, said she had been a victim of domestic violence while married to 54-year-old psychiatrist Dr Ijaz Rehman with whom she had three children, Daily Mail reported.

In a simple yet most-talked about ceremony, Imran tied the knot with Reham at Bani Gala on January 8. Reham, who hosts a current affair show on Dawn News, opened up about her turbulent previous marriage in a TV interview recently.

'Thanks to Allah, I am not scarred by my experience. Domestic violence is a big issue and no attention is paid to it in Pakistan. [It] happens in many shapes and forms," Reham said.

"I have never spoken about my personal experience of domestic violence because I was in [the] media and I felt it would be unfair to expose the other party," she added.

She also said that she was reluctant to accept Imran's proposal because of what took place during her previous marriage, which ended in 2006 after 15 years.

"When I talked to my family about it, we all had the same reservations, especially because when you have been through such a horrendous experience."

''When I talked to my brother about it, he had this only reservation — that [the domestic violence] wouldn't be repeated."

Her claims have provoked fury from her first husband.

Ex-husband responds

Dr Rehman rejected the allegations made by Reham and said he has never hit anyone, and have never been involved in any kind of domestic violence in any shape or form.

"I always looked after my children and wife very well. My ex-wife had every kind of liberty. "I am surprised that these allegations were made," he added.

The former husband of Reham, who still lives in Britain, further said, "domestic violence is a serious offence".

"I work in a very senior position in the NHS and if I was convicted or charged or found involved in domestic violence, in any sense, I wouldn't have been able to practice," he clarified.
COMMENTS (60)
Comments are moderated and generally will be posted if they are on-topic and not abusive.
For more information, please see our Comments FAQ