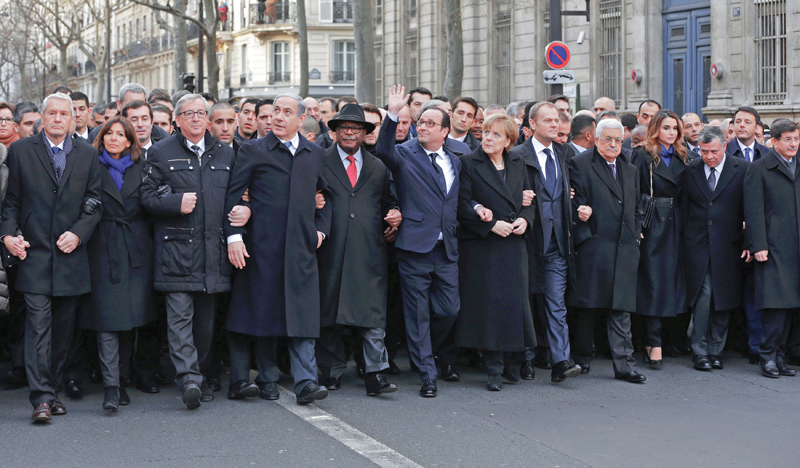 ---
PARIS: World leaders, including Muslim statesmen, linked arms to lead an estimated million-plus French citizens through Paris in an unprecedented march on Sunday under high security to pay tribute to victims of militant attacks.

Paris police said the turnout was 'without precedent' but too large to count. One organiser said he had indications it could be between 1.3 and 1.5 million people. Some commentators said the last street presence in the capital on this scale was at the Liberation of Paris from Nazi Germany in 1944.

President Francois Hollande and leaders from Germany, Italy, Israel, Turkey, Britain and the Palestinian territories among others, moved off from the central Place de la Republique ahead of a sea of French and other flags. Giant letters attached to a statue in the square spelt out the word 'Pourquoi' (why) and small groups sang the 'La Marseillaise' national anthem.

Some 2,200 police and soldiers patrolled Paris streets to protect marchers from would-be attackers, with police snipers on rooftops and plain-clothes detectives mingling with the crowd. City sewers were searched ahead of the vigil and underground train stations around the march route are due to be closed down.

The march mostly went ahead in a respectful silence, reflecting shock over the worst militant assault on a European city in nine years.

"Paris is today the capital of the world. Our entire country will rise up and show its best side," said Hollande.

Immediately to his left walked Merkel and to his right Malian President Ibrahim Boubacar Keita. In a rare public display of emotion by two major-power leaders, cameras showed Hollande embracing Merkel, her eyes shut and forehead resting on his cheek, on the steps of the Elysee before they headed off to march.

British Prime Minister David Cameron, Italian Prime Minister Matteo Renzi, UN chief Ban Ki-moon, Israel's Benjamin Netanyahu and Palestinian President Mahmoud Abbas were among 44 foreign leaders marching with Hollande.

Published in The Express Tribune, January 12th, 2015.
COMMENTS
Comments are moderated and generally will be posted if they are on-topic and not abusive.
For more information, please see our Comments FAQ